Exclusive
Tamra Barney's Teen Daughter's Home Life With Mom Was 'Unpredictable' — She 'Never' Knew 'What To Expect Next,' Family Therapist Tells Court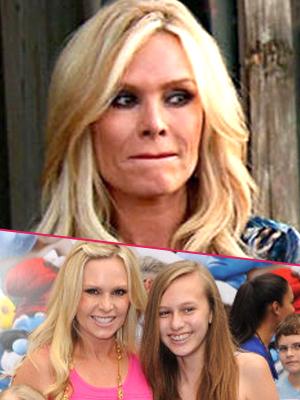 Article continues below advertisement
"She is anxious in not knowing how to handle herself in certain situations. She is the daughter of a 'high profile mother in the entertainment arena' and that alone seems to bother her," the licensed therapist writes in the court letter obtained exclusively by RadarOnline.com.
"It bothers her how sometimes there are extreme demands on her, (according to Sidney) and judgmental comments or facial expressions about Sidney around other adults, family and friends."
Article continues below advertisement
"It makes her anxious as to what is going to happen, and how she should react. She stays in her room a lot and doesn't participate in many activities because of fear of embarrassment or lack of interest in the activities she is being asked to participate in."
It's noted in the letter that there is no physical abuse occurring in either Simon nor Tamra's home.
Article continues below advertisement
And since requesting to move in with her father last Oct., which she did, Simon claimed in the court documents that Tamra was verbally and emotionally abusive towards Sidney.
"Sidney continues to claim that her mother is verbally and emotionally abusive towards her and does not give her the attention she needs as a daughter," the legal docs read.
"She further contends that Respondent's behavior in the media causes her embarrassment and results in ridicule and harassment from her peers."
Tamra has three children with Simon; Sidney, 15, Spencer, 13, and Sophia, 8.
They Make How Much?! The 23 Highest-Paid Reality TV Stars
The reality TV star vehemently denies all of Simon's claims stating they are "allegations with no grounds to stand on. This man is sick!" and told RadarOnline.com, "It's a legal matter. My attorney has this handled I don't talk to press about my children."
Stay with RadarOnline.com for all the latest in the heated legal battle between Simon and Tamra…