Exclusive
New Tamra Barney Bombshell: 15-Year-Old Daughter Claims Her Reality TV Mom Is 'Verbally & Emotionally Abusive,' Court Filing Reveals She Also Forged Child's Homework!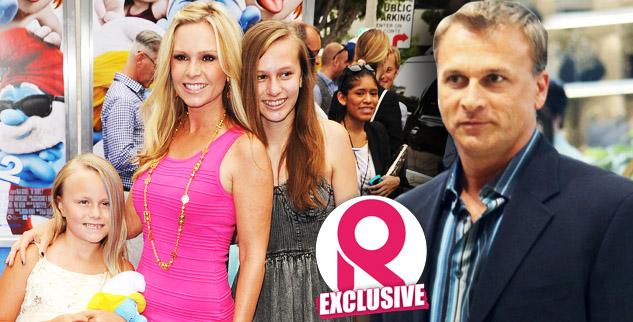 Not only is Tamra Barney's ex-husband accusing the Real Housewives of Orange County star of child neglect, but Simon Barney also claims his three children are suffering at school because of their mother's "high-profile" job and her eldest daughter says the reality TV star is "verbally and emotionally abusive."
Simon says the kids are ridiculed and bullied, and in documents exclusively obtained by RadarOnline.com, he provides proof that they are often tardy for school — and Tamra was even accused of allegedly forging daughter Sophia's reading log by the 8-year-old's teacher!
Article continues below advertisement
"These minor children are not going through the same issues as other minor children in their community. They are going through the same issues, exemplified with Respondent's position in the spotlight. The children suffer from ridicule and bullying in school and isolation from their fellow peers," the court documents filed on March 28 state.
"Respondent's neglectful behavior is evident in Sophia's school homework, which is often incomplete and her attendance record in school. Petitioner learned that Respondent may have forged Sophia's school reading logs. This was brought to Petitioner's attention by his daughter Sophia's teacher, redacted and by Sophia herself."
In particular, Tamra's estranged 15-year-old daughter — who now lives solely with Simon at her own request —Sidney claims her mother is verbally and emotionally abusive and her status in the public eye results in harassment from her teenage peers.
"Sidney continues to claim that her mother is verbally and emotionally abusive towards her and does not give her the attention she needs as a daughter," the legal docs read.
Article continues below advertisement
Faked Scenes, Lies & Payoffs – The Ultimate Guide To Reality TV Shows
"She further contends that Respondent's behavior in the media causes her embarrassment and results in ridicule and harassment from her peers."
Tamra has three children with Simon; Sidney, 15, Spencer, 13, and Sophia, 8.
Currently, both Tamra and Simon's permission is needed for the children to appear on the hit Bravo show, but last Nov. Tamra entered a motion asking that she not require Simon's "consent to include the minor children on the reality show as 'RHOC'" and she contended it was the kids' best interest to be on the show.
MORE ON:
Celebrity Justice
BOMBSHELL TEXT MESSAGES: Tamra Barney's Text Exchange With 15-Year-Old Daughter — Read The Messages Here
A 730 Evaluation was ordered by the court — which evaluates the mental health and parenting practices of both parents.
Simon points to Tamra's insufficient care for the children as a reason why they should not appear on TV.
"Respondent's gradual neglect for the well being of her children is apparent in her recent decision to file a Motion requesting that the Court reiterate that she does not need Petitioner's consent to allow the minor children to participate on 'RHOC'," the documents read.
Article continues below advertisement
They Make How Much?! The 23 Highest-Paid Reality TV Stars
"When the Court determined that was not the case, she further requested that the Court find it was in the best interest of the children to participate on 'RHOC' requiring a 730 Evaluation. Her motivation in filing such a request further reflects the minimal thought she has given to the best interest of her children."
Simon argues that Tamra's TV career has grown, resulting in a focus on her career rather than her children.
"Respondent's conduct demonstrates that she is no longer able to provide the children with the strong stability that is necessary for their well being."
Scorned Exes Tell All: Inside Hollywood's Ugliest Splits
Tamra has denied all allegations in the declaration filed by Simon, saying:
"I am very saddened by my ex-husband's attempt to publicly hurt me with false allegations. Why doesn't he understand he is hurting our children? My heart is broken and one day he will see the pain he has caused everyone."