'Stop Lying About Everything': Teen Daughter Of Real Housewife Tamra Barney Lashes Out At Estranged Mom, Calls Her Father — Who Is Seeking Full Custody -- A 'Great Dad'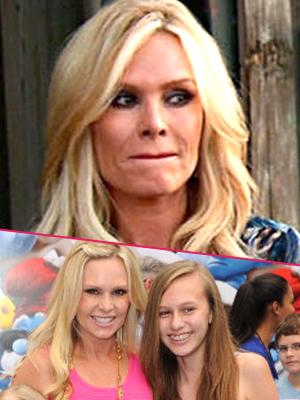 The mother and child reunion is more than a motion away in the case of Tamra and Sidney Barney.
The plot thickened in their saga Tuesday, as the precocious 15-year-old broke her silence on the ongoing family drama via Twitter, imploring her estranged reality star mom to "stop lying about everything," involving her children in the social media mudslinging, and assuring the masses that she's "not suffering."
Article continues below advertisement
(Mad as a hornet at RadarOnline.com for breaking the humiliating story, Tamra posted a family pic on her Facebook page and defiantly declared, "I even fed my kids afterward and made them take a shower. Imagine that RadarOnline.com online.")
Barney's new husband Eddie Judge got in on the act Tuesday, implying Simon was on a cash grab when he asked via Twitter, "If u need money wouldn't u just ask?
"Why embarrass the kids through all these false allegations? Will this justify u?"
Article continues below advertisement
Faked Scenes, Lies & Payoffs – The Ultimate Guide To Reality TV Shows
But Sidney Barney was having none of it, countering Judge's inferences in saying that that if her father Simon — who parted with Tamra more than two years ago — "needed money, he would have gone for child support and not full custody."
In another comment, Sidney said of her father: "He is a great dad but everyone thinks he is a terrible person because they believe the lies. It's getting old."
The starling comments from Sidney came on the heels of her revelation that she was excluded from her mother's Hawaiian vacation, — an accusation Tamra told us amounted to "bullsh*t."
The Real Housewives of Orange County airs on Bravo Monday at 9/8c; stay with RadarOnline.com for more on this white-hot story.