Hitting Rock Bottom: 'Heartbroken' Housewife Tamra Barney Vows She'd Never Hurt Her Children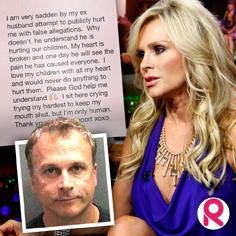 The Real Housewives of Orange County's Tamra Barney, with the gritty details of her ongoing custody battle surfacing publicly, took to her Facebook on Tuesday to express grief over the situation, and reiterate that she "would never do anything to hurt" her children.
"I am very saddened by my ex-husband's attempt to publicly hurt me with false allegations," Barney wrote. "Why doesn't he understand he is hurting our children? My heart is broken and one day he will see the pain he has caused everyone."
Article continues below advertisement
As we previously reported, Barney's ex-husband Simon Barney — pushing for full custody of their three kids — has accused the Bravolebrity of bring "very neglectful in her care for the children," letting medical, nutritional, hygienic and academic issues fall by the wayside.
He mentioned specific incidents, claiming that Tamra didn't take their 13-year-old son Spencer for medical care after he injured his thumb; and that she let their 8-year-old daughter Sophia go without baths or showers for days, on multiple occasions.
Retorting via her Facebook post, Tamra wrote, "I love my children with all my heart and would never do anything to hurt them. Please God help me understand. I sit here crying trying my hardest to keep my mouth shut, but I'm only human. Thank you for the support XOXO."
Adding to the pressure Tuesday was the former couple's 15-year-old daughter Sidney publicly chiming in about the situation -- clearly in her father's corner.