Exclusive
Kardashians' eBay Store 'Scam' EXPOSED — Buyers Complain About 'Stained' & 'Defective' Merchandise, Overpriced Shipping & Items That 'Never Arrived!'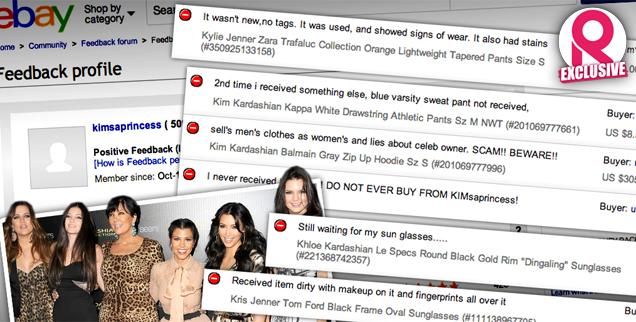 The Kardashian family might want to get out of the used clothing business. Kim slammed earlier this year for donating just ten percent of her lucrative eBay auctions to charity, and now RadarOnline.com has learned that the family's online sales are coming under fire yet again. Kim, Khloe, Kris and Kylie and Kendall Jenner have all been blasted with negative eBay feedback from buyers accusing them of shipping "defective" and "stained" merchandise, gouging buyers on shipping costs, and even failing to mail purchased items! One buyer even calls the stores a "scam," and only Radar has all the details.
Article continues below advertisement
For more than six years — almost since they became famous — the Keeping Up with the Kardashians family has been able to make a quick buck by shilling their used and otherwise unwanted clothing on eBay. With just ten percent of the proceeds going to charity, it's clear that the Kardashians are the ones making bank, but according to some buyers, the fans aren't getting such a great deal either.
One user who bought a Balmain hoodie for $305 from Kim posted an angry complaint after receiving their item, claiming Kim "sells men's clothes women's and lies about celeb owner. SCAM!! BEWARE!!"
Yet another user complained of receiving "defective shorts. In my opinion, Kim never even seen sic these shorts. Buyer beware."
Several others complained of receiving merchandise that, although listed as new, was clearly anything but.
Last August, a buyer claimed that when she received Kris' $202.50 Tom Ford black frame oval sunglasses, they were "dirty with makeup … and fingerprints all over."
Just months ago, a fan who bought Kylie's Zara orange lightweight tapered pants for $54 claimed "It wasn't new, no tags. It was used and showed signs of wear. It also had stains."
Article continues below advertisement
And the buyer of Kim's $147 Dries Van Noten white dress shirt claimed it arrived with "numerous stains all over it."
But those who allegedly received the defective merchandise still made out better than those who claimed they never received their merchandise at all!
ne fan who paid $71 for a Paige black distressed denim jacket from Kim complained, "I never received the item!!! DO NOT EVERY BUY FROM" Kim! Kim's assistant claimed it "was relisted on accident" and the "money was refunded."
The assistant offered no explanation, however, for the buyer who claimed "Second time I received something else than the item purchased. Blue varsity sweat pant not received."
And on April 18, the buyer of Khloe's $250 Le Specs round black gold rim "Dingaling" sunglasses complained, "Still waiting for my sunglasses…"
Yet another buyer complained of the shipping being "over priced"
With all the complaints flooding in, only Kourtney's store has escaped criticism, with no negative reviews. Still, two complaints categorized as "neutral" accuse her of subjecting buyers to "insane" shipping costs, and that an item "took longer to ship" than expected."
Would you buy from the Kardashians' eBay stores? Why or why not? Let us know in the comments!