Khloe Kardashian And Lamar Odom Remove All Items On Their eBay Page On Day Cancer Charity Scandal Is Revealed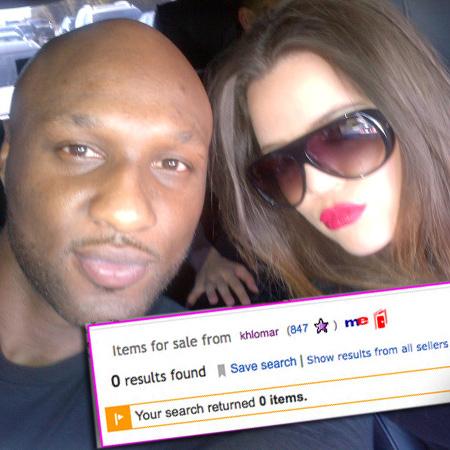 Talk about some suspicious behavior!
The very same day that ESPN accused Lamar Odom of running a questionable charity called Cathy's Kids, but not giving any of the money he raised to help cancer-related causes, the LA Clipper and his wife Khloe Kardashian removed all items for sale on their joint eBay page where they were auctioning off their own personal items to benefit the foundation – and RadarOnline.com has the details.
Article continues below advertisement
Khloe and Lamar, who were selling thousands of dollars a day through the eBay store they called khlomar, ended their last day of sales on April 1, 2013, bringing in a whopping $1,425.06 by auctioning off everything from sunglasses and high heels to pre-owned skirts and pants. Khloe was even selling some of her "pre-owned" sports bras on the page!
Every item sold notes that "A portion of the proceeds benefit Cathy's Kids." And Cathy's Kids was set up to help people with cancer and underprivileged youth, according to Lamar's own statement.
On Tuesday afternoon, the site suddenly read "currently no items for sale," with only their "completed listings" available to view (these are items that have already been sold).
"It's my money," responded the LA Clippers star, when asked about the shocking allegations that despite raising more than $2.2 million for his charity since 2004, that none of the money was given to cancer-related causes.
To read all about Khloe and Lamar's shocking cancer charity scandal, click here.
And below is the former cover image for the eBay store where Khloe and Lamar pledged money to his charity from the sales.