Exclusive
Simon Barney 'Pleased' With Custody Hearing Despite Judge Shooting Down His Request; Hopes Results Will Force 'RHOC' Star Tamra Barney To 'Become A Better Mother'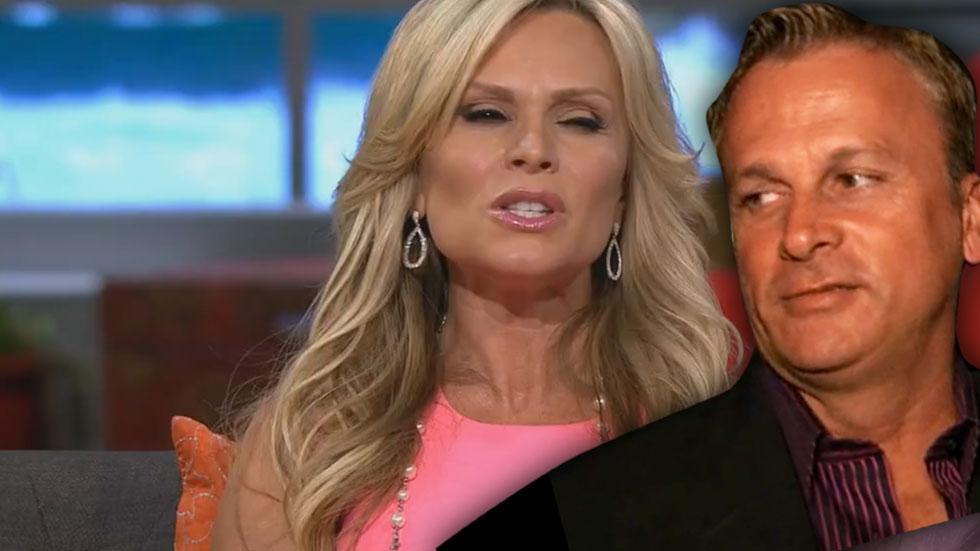 Simon Barney, speaking exclusively with RadarOnline.com, said he was "pleased with the results" of Thursday's family court hearing against ex-wife Tamra Barney, in which he unsuccessfully asked for an increase in his current 50-50 physical custody arrangement for their three children, claiming the Real Housewives of Orange County star had shown repeated signs of parental neglect.
"I hope that by bringing this court action it will force her to, hopefully, become a better mother," Simon told RadarOnline.com exclusively following the hearing, in which Orange County, Calif. Judge Thomas Hammond dismissed Simon's custody change attempt in regard to their two youngest children, 14-year-old Spencer and 8-year-old Sophia. "If that happens, everyone wins … I would have been remiss if I did not fight to protect our children."
Article continues below advertisement
The judge did leave the door open for Simon in regards to custody of their oldest child, 15-year-old Sidney, which will be decided in a hearing slated for December.
"I was glad to hear from the judge that if nothing changes, the judge is inclined to give me full custody of Sidney in the very near future," Simon told RadarOnline.com. "Once I have physical custody of Sidney, I look forward to helping her foster a relationship with her mother.
"I hope one day Sidney and Tamra will be able to have a normal mother-daughter relationship."
As RadarOnline.com previously reported, Thursday's hearing was to address possible changes in the custody order after Simon said that Tamra — too busy keeping up appearances as a Bravolebrity — was neglecting their three children in regards to their dismal health, nutrition and hygiene, and attendance issues at school.
Article continues below advertisement
Taking the stand on Thursday, Simon cited a number of specific incidents he said led him to the conclusion Tamra had been neglectful while the children were under her care.
They included: a finger injury Spencer suffered while in her care; Sophia frequently being cared for by her older siblings; Sophia allegedly being late to school on a frequent basis; Sophia coming home unbathed; and instances of the children coming home with underwear that was soiled.
Simon testified Thursday that after one incident, in which he confronted Tamra about Sophia not bathing, Tamra shot back, "Don't worry about it!" and repeatedly told him, "F*ck you."
In response to the allegations, Tamra said that Spencer was "fine" after his injury — a jammed finger which did not stop him from playing video games and running around the house; and that the reason Sophia missed bathing on one occasion was because she was battling the flu.
Article continues below advertisement
In regards to Sidney — whose longstanding issues with her mother have been closely chronicled on RadarOnline.com — Simon said that when the teen lived with Tamra, she "wasn't smiling a lot," and her mood was "very low" and "down."
He said that Sidney's been "great" since she began living with him.
"She's happy, she goes out with her friends to football games, theatre, she's very active and seems like a completely different person," Simon told the court. "I do believe Sidney should have a relationship with her mother — but at the present time, and recent past, it has been a relationship that is not good for the well-being and health of my daughter."
On the stand, Tamra admitted that one one occasion, she texted Sidney — who has not lived with her for a year — that she is not welcome in her house.
"My daughter decided to move out for no reason and it's been the worst year of my life," a teary Tamra testified, delving into the specific sticking points in their rift: Tamra said Sidney's "embarrassed because of the show," and on one occasion, told her that she "ruined her dad's life and he can't get a job because of the things I said publicly."
Article continues below advertisement
Tamra denied Simon's claim that she's too consumed with the Bravo show, saying she films only four months out of the year, not the six to seven months as Simon claimed; and that she has control over how many hours she spends at at her gym CUT Fitness, leaving her plenty of time to be with her kids.
Following the hearing, bad blood still flowed between the exes, who previous battled in court over whether their children should be featured on camera on the reality show.
Tamra, following Thursday's hearing, gloated over the results in a series of tweets — including one in which she wrote, "I won!!!!!!" — to Simon's chagrin.
"Honestly I am disappointed in her that she would post online https://radaronline.com/exclusives/2014/07/tamra-barney-judge-simon-barney-rhoc-twitter-slam/ that she 'won' without mentioning the children," he said. "I don't believe that there are any winners or losers today — the only thing that matters is what is best for our children."
Check back in with RadarOnline.com for more exclusive content in this contentious custody case.