Exclusive
Monster Mom Tamra Barney Judge Hasn't Seen Daughter For Eight Months! 'Negligent' Behavior Claims Exposed In Explosive Court Docs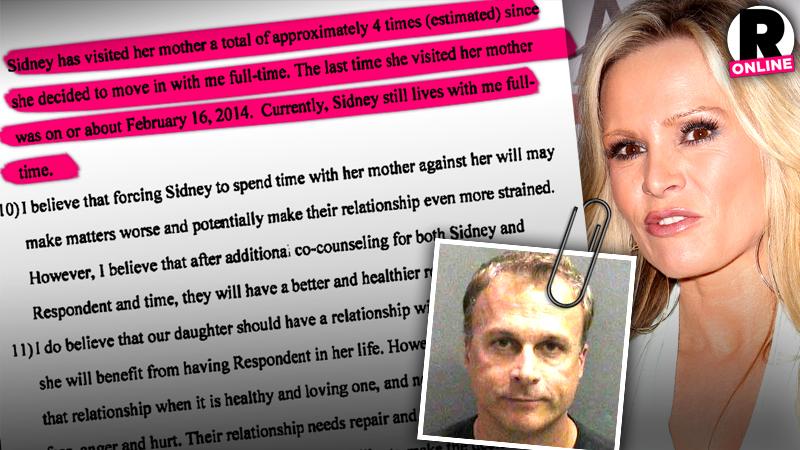 Article continues below advertisement
According to court documents obtained by RadarOnline.com, Barney is asking for "sole physical custody" of the couple's children, Sidney, 15, Spencer, 14, and Sophia, 8. While he'll allow her to see the younger children "every other weekend on Friday from 5 p.m. to Sunday at 5:00 p.m.," he's asked the courts to allow Sidney to see her at her own "discretion," making "the choice to see Tamra."
Why the distance? According to the documents, Sidney has been residing full-time with her dad since October 6, 2013. "Sidney made the decision to leave her mother's home to stay with me because she felt extreme anxiety at her mother's home and the relationship between Sidney and her mother suffered because of Respondent's inappropriate behavior toward Sidney," Barney says in the documents.
READ Simon's Shocking Claims About Monster Mom Tamra
"Sidney was facing difficulties in public and in school because of Tamra's public portrayal on the Real Housewives of Orane County, which ultimately led to ridicule by her friends and parents at school," he continues, claiming she even suffered from "severe stomach pain and cramps" due to Judge.
"Since Sidney has lived with me full-time, she has been much happier, she has had less anxiety, and she seems to be adapting positively to the change," he claims. "Sidney has shown great progress in school both socially and academically. She is much happier, and I have noticed a significant difference in Sidney's growth and mood."
Article continues below advertisement
Her stomach issues have subsided, he says, but "She does, however, get those cramps back after texting or telephone conversations with the Respondent."
As such, Barney claims, Sidney has only seen her mother "approximately four times" since last October, with their last meeting "on or about February 16, 2014."
"Their relationship needs repair and it will take some time," Barney notes, insisting that the pair should continue therapy. But in the meantime, he says, they need their space.
But Spencer and Sophia should spend less time with her too, he claims. "In the past few months," he write in the documents, "I have noticed a series of questionable decisions/actions from Tamra relating to our children."
Recently, he says, the reality star "has acted negligently during her custodial time … both Spencer and Sophia have had their health compromised, their hygiene compromised, and ultimately their general livelihood compromised."
Article continues below advertisement
Because of her Bravo commitments and new gym, CUT Fitness, he says "the children have been late to school, have been left with others to care for them, and have been neglected. On the contrary, I have changed jobs so that I travel less and have the ability to be more flexible with my schedule. I changed my position primarily so that our children where my top priority."
Barney is asking the judge to award custody based on his demands. He also wants his ex-wife to pay him $17,500 in attorneys fees and claims she can afford it — even though she's yet to file her income and expense declaration with the court.