Exclusive
Tamra Fights Back! 'RHOC' Star Judge Slams 'Delusional' Ex Simon Barney's 'Flat-Out Lies' About Her Alleged Child Abuse In Explosive New Court Docs — Insists 'The Only Abuse Our Children Are Suffering' Is From Him!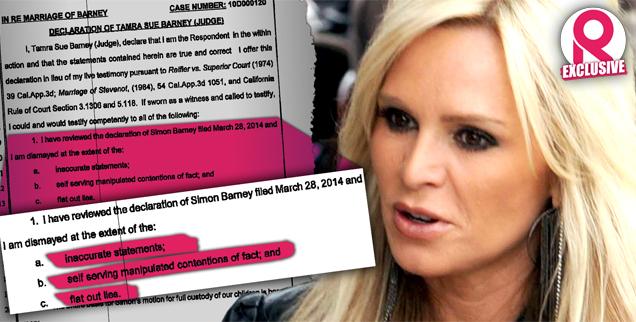 Article continues below advertisement
Judge made the shocking new statements in a declaration filed in Orange County on June 13, which serves as a response to the bitter rant Barney filed back in March.
Regarding that explosive filing by her ex, she says, "I am dismayed at the extent of the inaccurate statements, self-serving manipulated contentions of fact and flat out lies" it contained.
"The entire basis for Simon's motion for full custody of our children is based upon what he perceived as some type of abuse by me daring to request that any of our children appear on Real Housewives of Orange County," Judge's declaration continues. "With regard to this first alleged basis, ironically Simon had no issue with our children being on RHOC when he himself was on the show, and when we were married and he stood to financially gain from such."
READ Tamra's Explosive Comments About 'Delusional' Simon's 'Lies!'
Barney had also claimed in his own declaration that Judge "did not treat our son Spencer's injured thumb with the urgency he felt it deserved" when the child jammed it during a rugby match.
Now, Judge insists, "I did not neglect 13-year-old Spencer with regard to his thumb … I asked Spencer if he wanted to go to the doctor because I was ready and willing to do so and bring him there if the level of his discomfort necessitated such. Spencer did not tell me anything to lead me to believe he was in any pain, and I did not personally see any behavior out of the ordinary to make me believe he was in any pain."
Article continues below advertisement
She continues, "Simon is fully aware, that since Spencer's birth, that I have been the parent who has been primarily responsible for taking our children to the doctor … Any suggestion otherwise is a flat out lie and pure manipulation meant to defame me and grab headlines."
"After Spencer jammed his thumb he continued to use his hands and to use his thumbs playing video games in my immediate presence," Judge insists. "Obviously Spencer must have expressed more discomfort to Simon than he did to me or his teachers and staff at his school … the official diagnosis was a hairline fracture that did not require any type of casting."
In short, Judge says "delusional" Simon's entire declaration was a calculated move "to villainize me in the media knowing that the journalists who hang on every word he chose to put in the public file."
She insists, The only abuse our children are suffering at this time stems from Simon's own self-serving declaration and his various exhibits … to fulfill Simon's desire to publicly defame me."
Judge does admit that she and 15-year-old daughter Sidney " have had a strained relationship of recent." But while Barney claimed in his declaration that the child's therapist thought she was suffering from "anxiety" related to the split, Judge claims, "Simon has completely lied, under the penalty of perjury," and that the therapist said no such thing."
Article continues below advertisement
Judge said she plans to ask the court to order Sidney to complete even more therapy, and to force Barney to communicate with her only through a custody planning website, since she says "he is constantly harassing me" with "hundreds" of text messages "on a regular basis."
She also wants the kids — Sidney, 15, Spencer, 13, and Sophia, 8 — to live with her full-time, insisting she is the better parent.
"Simon purportedly desires to keep our children's lives private, yet I am in the process of consoling our two younger children in light of the press generated by Simon's unfounded motion for full custody of them," Judge claims. "They are right in the middle of the spotlight."
"Our children are more important to me than anything in my whole life," she says, and points out, "While Simon has made various harmful and untrue statements regarding my parenting of our children, he has continually entrusted me with their care while he is away."
Barney and Judge will face off in court tomorrow. Stay tuned for the latest in the case.
Whose side are you on? Let us know in the comments!