Exclusive
The Battle Continues! Tamra Barney Judge Slams Ex-Husband Simon Barney After Tense Mediation Session In Bitter Custody Fight: 'I Pray For Him Every Night'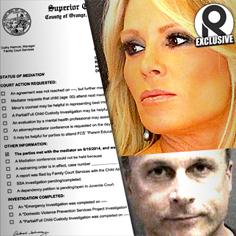 It's war! Real Housewives of Orange County star Tamra Barney Judge's bitter custody battle with her ex, Simon Barney, is raging on with no end in sight. RadarOnline.com has exclusively learned that a recent attempt at mediation was a total bust, and with the couple set to battle it out in front of a judge, Judge has gone on the offensive, slamming her ex online!
As Radar has reported, the reality TV mom, 46, and her ex are slogging through a nasty custody battle that has seen accusations of neglect, child abuse, and worse! "My whole life is consumed with this, and it's probably one of the most devastating things I've ever gone through in my life," she said on RHOBH this week. "I cry probably every single day, and it's hell."
Article continues below advertisement
The couple recently tried to put an end to their squabbling with a mediator, to no avail. According to court documents filed in Orange County on June 10, Tamra and Simon met with a mediator on that date, "and were unable to reach an agreement." A hearing has been scheduled for June 25.
READ : Tamra & Simon's Court Documents — Will They Ever Settle The Case?
After the mediation session was a bust, Tamra took to her Facebook to bash her ex with a Father's Day post that quickly turned nasty.
"Thank you Simon for our beautiful children," she began the surprisingly friendly post. "I hope you have a great day with them today."
But when fans complimented her for her gesture, Tamra was quick to point out that she wasn't exactly offering him an olive branch.
"If it wasn't for him, I would not have my beautiful children," she told one fan.
And then to another, she insisted, "People try to hurt you because they are hurt. I pray for him every night knowing that."
Simon is suing Tamra for 100 percent custody of their three children: Sophia, 8, Spencer, 13, and Sydney, 15.
Stay tuned to Radar for the latest in the battle royale!