Exclusive
'Tamra Is A Great Mother!' Child Psychologist Treating 'RHOC' Star's Daughter Makes Court Declaration In Bitter Custody Fight With Her Ex Simon Barney — READ The Shocking Docs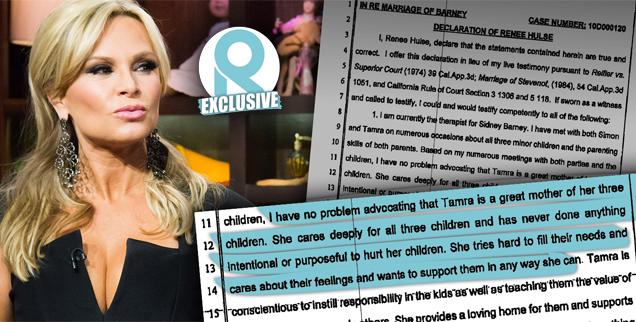 Article continues below advertisement
Renee Hulse, the therapist for Sidney, 16, said in a declaration that she has met with Sidney and both parents "on numerous occasions."
READ The Child Psychologist's Take On Tamra's Parenting Skills
"Based on my numerous meetings with both parties and the children, I have no problem advocating that Tamra is a great mother of her three children," Sidney, Spencer, 13, and Sophia, 8, Hulse said. "She cares deeply for all three children and has never done anything intentional or purposeful to hurt her children."
"She tries hard to fill their needs and cares about their feelings and wants to support them in any way she can," Hulse continued. "Tamra is conscientious to instill responsibility in the kids as well as teaching them the value of work and respect towards others. She provides a loving home for them and supports her children to connect with their father, Simon, often."
Despite Barney's claims, the therapist insisted, "I have never heard anything … that would indicate that she has ever done anything out of the ordinary, that she would hurt, abuse or neglect her children in any way."
Article continues below advertisement
In fact, although Barney presented a letter from Hulse dated January 5, 2014 claiming that Judge was the cause of Sidney's "anxiety," Hulse said the letter was never suggested any such thing.
She insisted, "The purpose of this letter was not to advocate for one parent or the other but to simply convey the current state of affairs https://radaronline.com/exclusives/2014/04/tamra-barney-accused-child-neglect-ex-husband-says-no-bathe-food-kids-for-days/pertaining to my therapy with Sidney specifically. This letter was actually a positive letter …"
Barney's insistence that Sidney suffers from anxiety "is a lie," Hulse claimed. "Nowhere within the letter is the word anxiety or physical pain even referenced. My letter has been taken out of context and it is being misrepresented by Simon."
Barney has since said he wants Sidney to stop seeing Hulse, and now Judge is asking the court to make it mandatory.
In a memorandum, her lawyers argued, "The therapy has generated positive results as it pertains to the relationship between Sidney…and her mother. To maintain these positive results, Tamra is requesting the court order both parties to cooperate and continue this therapy with Ms. Hulse. Simon has refused to allow this therapy to continue, so an order is needed."
Article continues below advertisement
"The substantial danger the lack of therapy poses is that Tamra and Sidney's relationship will not improve without conned therapy," the documents read. "The therapy has proven successful thus far, however, her father is not allowing it to continue. It is in the best interest for Sidney to have continuing and frequent contact with both parents.."
Judge even offered to continue paying for it herself.
Meanwhile, the couple faced off in court today but agreed to a continuation until September 10.
Story developing.