'She Can Go Suck Balls': 'Monster Mom' Tamra Barney Faces Off With HLN's Nancy Grace Over Child Neglect Claims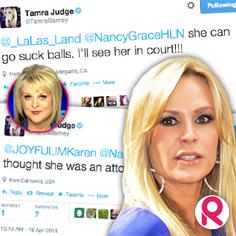 Article continues below advertisement
Grace interrupted her guest and shut her down!
"What are you saying, it's easy to get caught up in filming? Filming that? What? They all get drunk and start a fight. Filming what?" the outspoken host said.
The former prosecutor continued to rail against Tamra, refusing to give her any slack even though she's in the middle of a bitter custody battle.
Faked Scenes, Lies & Payoffs – The Ultimate Guide To Reality TV Shows
In response to the show, Tamra slammed the HLN host on social media.
"I thought she was an attorney?" Tamra wrote on Twitter. "She can go suck balls. I'll see her in court!!!"