Tamra Barney Blasts Ex-Husband Simon Amid Nasty Custody Battle: 'Divorce Doesn't Hurt Kids, Angry Bitter Parents Hurt Kids!'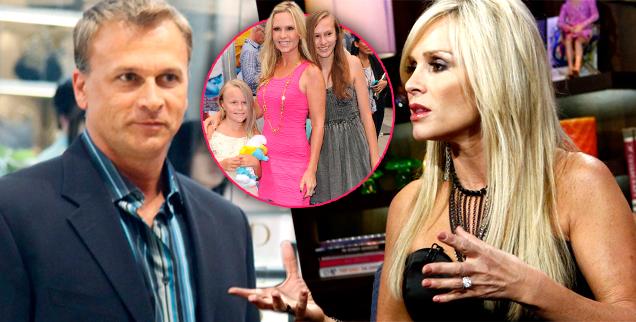 Article continues below advertisement
Now Tamra is opening up about her family issues, shooting down Simon's claims that she's an unfit mother.
"To be accused of exaggerated and false allegations is every mother's/father's nightmare. I would not wish it on anyone and my heart goes out to all those parents that are dealing with the exact issue. As I always say...DIVORCE DOESN'T HURT KIDS, ANGRY/BITTER PARENTS HURT KIDS," she wrote on her Bravo blog.
Tamra has three children with Simon: Sidney, 15, Spencer, 13, and Sophia, 8.
Scorned Exes Tell All: Inside Hollywood's Ugliest Splits
"Even though it is hard to share your children 50-percent of the time, I believe that divorced children should have both parents in their lives… My children are my life and I love and cherish them with all my heart," she said.
The reality star also weighed in on the court papers filed by Simon, which included claims from Sidney that her mother is "verbally and emotionally abusive." At the time, she decided to live with her dad.
Article continues below advertisement
"This came as a total shock to me! Sure, I knew things were not prefect and we didn't always see eye-to-eye, but I thought it was her age? As parents we are NOT perfect and we make mistakes, but family is everything. I had to hide my tears daily to protect Sidney from this getting out and being made public," Tamra added.
Faked Scenes, Lies & Payoffs – The Ultimate Guide To Reality TV Shows
As RadarOnline.com previously reported, Simon's bombshell filing late last month was riddled with accusations against the reality TV star, claiming she was negligent with the children, not properly feeding them or keeping up with their hygiene.
"It's hard enough to deal with this privately but to deal with this publicly can really push you over the edge. I know this too shall pass and he has no foundation to his allegations, but it still hurts me to see the kids going through this. But I believe everything happens for a reason," she concluded.