Exclusive
Tamra Barney's Custody Fight: Judge Ordered '730 Evaluation' From Top Doc Who Ruled Kids Should Not Be Allowed To Star On 'Real Housewives of Orange County'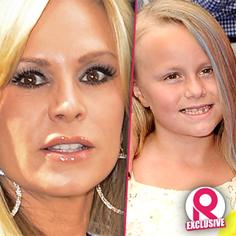 Tamra Barney's attorney conceded in a March 2014 letter to ex-husband Simon Barney's attorney — exclusively obtained by RadarOnline.com — that they would not be challenging the court-appointed doctor's recommendation that their three children not appear on the Real Housewives of Orange County.
When a 730 Evaluation was issued by the court, used to assess the parents mental health and parenting practices, Dr. Galindo filed a report which "didn't shine a positive light" on Tamra, an insider tells RadarOnline.com.
Article continues below advertisement
The evaluation by Dr. Galindo was ordered after Tamra filed a motion seeking permission to film the children; Sidney, 15, Spencer, 13, and Sophia, 8, without consent from Simon.
BOMBSHELL TEXT MESSAGES: Tamra Barney's Text Exchange With 15-Year-Old Daughter — Read The Messages Here
"As I have previously referenced, I did not anticipate that Ms. Barney will be contesting the findings set forth in Dr. Galindo's report," Tamra's attorney, Daniel Monarch, stated.
"Now that she has had an opportunity to review the report, she does not want to contest the recommendations set forth therein."
Sources tell RadarOnline.com Tamra chose not to challenge the doctor's report — which is sealed — after reviewing it, but that the report has had "a snowball effect" and is the platform for which Simon is challenging the current child custody situation.
As RadarOnline.com previously reported, Simon's bombshell filing late last month was riddled with accusations against the reality TV star, claiming she was negligent with the children, not properly feeding them or keeping up with their hygiene.
Article continues below advertisement