Exclusive
Robert De Niro's Dark Secret Past: New Biography Alleges Oscar Winner Abused Cocaine, Blamed Himself For Best Friend John Belushi's 1982 Overdose Death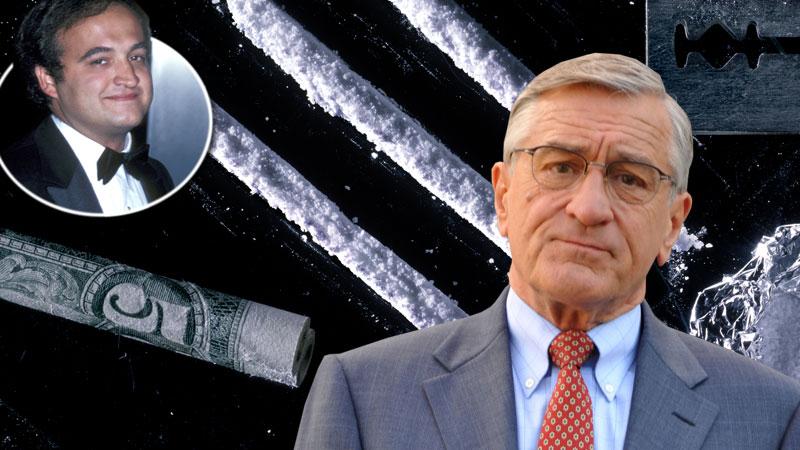 Robert De Niro is arguably one of the most successful actors of all time, with the utmost respect from his friends, family and fans.
However, more than thirty years ago, The Godfather: Part II star took a downward spiral into cocaine abuse that ultimately led to the tragic death of his best friend John Belushi, a new biography alleges.
In De Niro: A Life, out October 28, author Shawn Levy claims De Niro, now 71, began "living a lifestyle he was keen never to have revealed."
Article continues below advertisement
"During the period in which he, director Martin Scorcese, and the crowd around them were using drugs, especially cocaine, De Niro became friendly with John Belushi," Levy writes.
With a "common love of late night living," the unlikely pair— the serious dramatic actor, and the larger-than-life Saturday Night Live comedian— shared many "boozy, cokey nights" at famed West Hollywood nightclub On The Rox.
Their wild times came to a head on March 4, 1982, when De Niro found Belushi in his Chateau Marmont bungalow with believed heroin and cocaine dealer, Cathy Smith.
After a short phone conversation with Robin Williams about a possible late-night rendezvous, De Niro partied in his own nearby Chateau suite with friends and later stopped by Belushi's place one last time at 3 am, the tell-all alleges.
De Niro "let himself in, helped himself to a little bit of the cocaine displayed on a table, and left again," Levy claims.
Article continues below advertisement
When the hotel manager told him the next afternoon that Belushi had died, the actor began to cry.
The star was "horrified," the author writes— not only because he had seen the drug-addled comic just hours before his death at just 33, but because "Belushi had been experimenting with heroin in part because he wanted to play a punk rock musician in a movie and was imitating De Niro's famed technique of immersing himself completely into his roles."
According to the book, a friend, musician Richard Bear, soon reminded De Niro that both he and Belushi had discussed the idea that the comedian actually shoot up heroin while filming his latest project.
"Bobby, they rehearsed the scene. That's what killed him…They were doing it!" Bear allegedly cried to De Niro.
When the Los Angeles district attorney investigated Belushi's death— ultimately found to be caused by a deadly cocktail of cocaine and heroin administered by Smith— the Taxi Driver star was subpoenaed to appear in court. However, he was making a movie overseas, and only had to testify via telephone.
While his friend succumbed to his addiction, De Niro went on to star in more than 70 additional films, never tainted by a "bad boy" reputation.