Donald Sterling Says He's 'Entitled To One Mistake' After Being 'Baited' Into Racial Jabs; Again Bashes Magic Johnson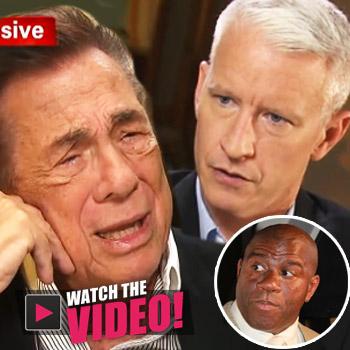 Los Angeles Clippers owner Donald Sterling tells CNN's Anderson Cooper that he's sorry for his rantings, feels like he deserves a second chance, and thinks Magic Johnson is a "good person," despite having fallen short helping minorities, and as a role model.
"When I listen to that tape, I don't even know how I can say words like that," Sterling told Cooper in his first public comments since he was caught on tape telling love interest V. Stiviano, "Don't bring black people to my games."
Article continues below advertisement
Sterling said in the preview clip for ANDERSON COOPER 360°, "I don't know why the girl had me say those things … I was baited; I mean, that's not the way I talk."
Watch the video on RadarOnline.com
The 80-year-old billionaire declared he's "not a racist," but rather an individual who "made a terrible, terrible mistake.
"And I'm here with you today to apologize and to ask for forgiveness for all the people that I've hurt."
Sterling said the reason he took weeks to come forward was because he was "emotionally distraught" in the fallout of the scandal, resulting in NBA Commissioner Adam Silver issuing him a $2.5 million fine, and a lifetime ban from the league.
"The reason it's hard for me, very hard for me, is that I'm wrong — I caused the problem — I don't know how to correct it. I'm a good member who made a mistake and I'm apologizing and I'm asking for forgiveness.
Article continues below advertisement
"Am I entitled to one mistake, am I after 35 years? I mean, I love my league, I love my partners. Am I entitled to one mistake? It's a terrible mistake, and I'll never do it again."
Sterling said he didn't know how the recordings would up on RadarOnline.com and other online outlets, deferring to his misguided feelings of puppy love for Stiviano.
"An 80-year-old man is kind of foolish, and I'm kind of foolish," he explained. "I thought she liked me and really cared for me: I guess being 51 years older than her, I was deluding myself.
"I just wish I could ask her why, and if she was just setting me up."
Amazingly, following his mea culpas, Sterling again took shots at Johnson, the NBA Hall of Famer whose name was the subject of derision in the initial recordings that leaked.
After revealing he had spoken with him on two occasions since the scandal broke, Sterling repeated to Cooper the lukewarm apology he gave Johnson, who famously retired from the league in the fall of 1991 after testing positive for the HIV virus.
Article continues below advertisement
Earlier Sunday, Sterling's wife Shelly spoke with Barbara Walters, where she vowed to "fight a potential decision" to make her family sell the franchise, and speculated on her husband's mental health in the wake of the scandal.
"I -- in my opinion, I think he -- it's the onset of dementia," she said, noting that her husband said he didn't remember the chats he's had with Stiviano regarding who she brought to Clippers games and her Instagram posts. "I said, 'Well, this is the tape.'
"And he says, 'Hmm. I don't remember it.' That's when I thought he had dementia."
Cooper's interview with Sterling airs in its entirety at Monday at 8/7c on CNN's AC360.