Donald Sterling's Pathetic Racism Excuse Revealed In Second Secret Recording: I Was Just 'Jealous' & 'Trying To Have Sex With' V. Stiviano! LISTEN To His Crude Comments About His Penis Size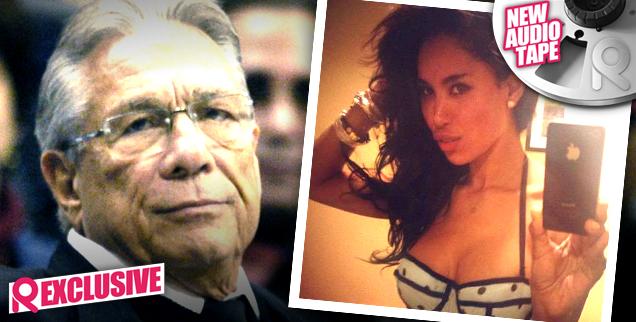 Article continues below advertisement
As Radar has reported, Sterling lavished his personal assistant Stiviano with luxury gifts for years, but sources insist she never slept with him in return. And according to the new recording acquired by Radar, he was trying to change that when he launched into his racist rant during a phone conversation with Stiviano.
In that tape, "I'm talking to a girl. I'm trying to have sex with her," Sterling explains to a long-time friend in the recently recorded phone conversation obtained by Radar. "I'm trying to play with her. If you were trying to have sex with a girl and you're talking to her privately and you don't think anybody's there, you may say anything in the world!"
"Then, if the girl tapes it and releases it, my god it's awful," he continues. "Who thinks anybody's gonna tape something?"
Sterling, 81, was previously recorded telling Stiviano, 31, "It bothers me a lot that you want to broadcast that you're associating with black people … You can sleep with black people … The little thing I ask you is not to promote it …"
In the new recording, Sterling's first since the scandal broke, the disgraced NBA owner explains his twisted reasoning for those statements.
Article continues below advertisement
"The girl is black," Sterling says. "I like her. I'm jealous that she's with other black guys. I want her. So what the hell. Can't I in private tell her, 'I don't want you to be with anybody?'"
In particular, Sterling had exploded over a photo Stiviano posted on Instagram of herself posing with Magic Johnson.
"The picture is not the issue," he now explains. "I wish Magic Johnson was talking to a girl and you trying to play with her, and you might say anything. You might say you have the biggestpenis in the world! I would have said I could fly over a high rise building if I had to!"
"And you're talking to her and then you go away," he continues. "And the next thing you know, three months later what you said when you were hot trying to get in her … is released!"
Public backlash was swift once the tapes were released, with NBA Commissioner Adam Silver giving Sterling a lifetime ban on April 29. Pressure for him to sell the team continues to mount, but as Radar has reported, Sterling refuses to back down.
Article continues below advertisement
Indeed, Sterling's excuses have fallen on deaf ears at the NBA. Hours after Radar first released the world exclusive recording, an NBA source told Radar, "The NBA is aware of and has heard the latest Donald Sterling audiotape. His comments won't change Commissioner Silver's decision to ban Mr. Sterling for life from the game, and Silver will still be urging the other owners to force him to sale."
Article continues below advertisement
Furthermore, the source confirmed Radar's report about an investigation into Sterling's wife, Shelly, adding, "There is now a separate investigation into allegations involving racism and Shelly Sterling. There is court evidence that was brought to the league's attention in the last few weeks, in which Mrs. Sterling allegedly made racist comments."
As such, the NBA has requested a formal interview with Shelly as part of the investigation, according to the source.
LISTEN to the bombshell second recording featuring Sterling's sexual comments and lame excuses here:
radar_embed service=5min.com src="http://pshared.5min.com/Scripts/PlayerSeed.js?sid=1126&width=570&height=351&playList=518225614&autoStart=true"