Exclusive
Lawsuit Looming Over Sterling Tapes: Clippers Owner Donald's Wife Shelly 'Will Absolutely Pursue Criminal Charges' Against Mistress V. Stiviano If She Secretly Recorded Conversations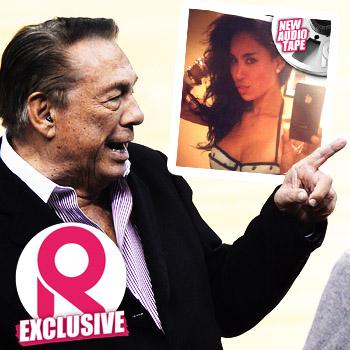 Article continues below advertisement
But according to an insider familiar with the situation, "Shelly never gave her permission to be tape-recorded by that woman. If indeed, Shelly was tape-recorded by her, she will absolutely pursue criminal charges against her. Stiviano can count on that."
The Shelly tapes — in which the estranged wife of disgraced NBA owner Donald is heard speaking in an "extremely candid, unfiltered" tone — will be made public because her lawyers have demanded it as part of the discovery process in the next several weeks, sources tell RadarOnline.com.
"While Shelly doesn't make any racist comments, it gives the public an inside look into who she really is behind closed doors," the source said. "She also swears like a sailor. Her tapes will definitely raise eyebrows. She was absolutely aware of Donald's racist views, and did nothing to distance herself in the past from it."
Married to Los Angeles Clippers owner Donald for more than 50 years, Shelly has watched him lavish millions of dollars on his girlfriend Stiviano, and she wants it to stop, according to the lawsuit. What's more, she's claimed she wants the money back.
Article continues below advertisement
According to the lawsuit, Donald has used their community funds to lavish gifts on Stiviano including a $1.8 million condominium, Ferrari, and other luxury cars. Legal experts have said Shelly isn't likely to prevail in the lawsuit because Donald gave the items to Stiviano as gifts.
But if Shelly finds she was recorded against her will by Stiviano, there could soon be another legal battle on the horizon.
The source explained, "You can't just go around tape-recording people in California without their permission. Whatever arrangement Donald had with V., about tape-recording, it doesn't apply to Shelly. Shelly has a reasonable expectation of privacy, even if she was around more than one person. California has very strict laws concerning privacy."
Under the California wire-tapping law, it's a "crime to record or eavesdrop on any confidential communication, including a private conversation or telephone call, without the consent of all parties to the conversation." The statute also applies to "confidential communications" -- i.e., conversations in which one of the parties has a reasonable expectation that no one is listening in or overhearing the conversation.
Violation of the law could be charged as either a misdemeanor or felony, with penalties ranging from jail time of one year in county jail, or up to three years in a federal prison, and fines up to $2500.
Request for comment from Shelly Sterling and V. Stiviano's attorney's weren't immediately returned.