Bad Karma? Donald Sterling Reportedly Suffering From Cancer, 'People Thought He Would Die Two Years Ago'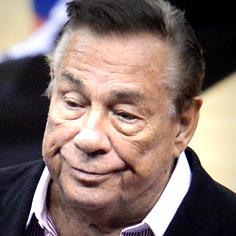 Article continues below advertisement
"People have been predicting his imminent demise. I'm sure he has the best . . . drugs money can buy," the source, who reportedly works closely with pro sports teams, said about the disgraced basketball team owner.
"He can do anything to keep himself alive."
Sterling's puffy face is a result of his medical condition and treatment the source revealed.
The prostate cancer diagnosis is an ironic twist in the sordid tale of Sterling's demise, which began when a recording made with his mistress V Stiviano surfaced where he told her to stop "associating with black people" and not to bring black people to the games.
MORE ON:
Los Angeles Clippers
Clippers former assistant coach Kim Hughes said Sterling refused to pay for his prostate cancer treatment a decade ago.
"I contacted the Clippers about medical coverage and they said the surgery wouldn't be covered," Hughes told The Journal Times of Racine, Wis., in 2011.
"They said if they did it for one person, they'd have to do it for everybody else."
Eventually $70,000 was donated by four Clippers players to cover the $70,000 cost of the treatment.
Sterling has reportedly been hiding in a Beverly Hills, Calif. building that he owns, fleeing the Malibu mansion he shares with his wife Shelley.