Exclusive
Donald Sterling's Alleged Mistress LIED To Get Her Foster Children – V. Stiviano Submitted Documents Stating She Worked At His Charity... Yet Foundation Insists 'She Never Worked Here'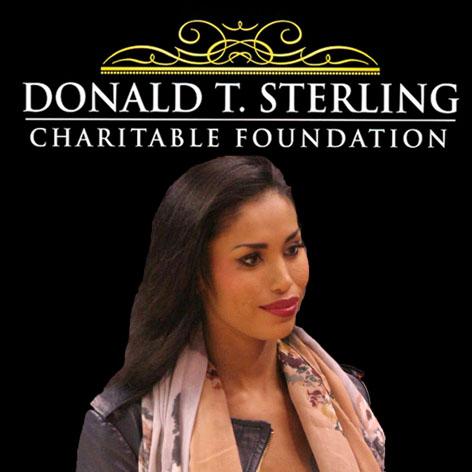 Donald Sterling's alleged mistress, V Stiviano, fudged the truth in order to become a foster mom. RadarOnline.com has exclusively learned that she submitted paperwork to the Los Angeles County Department of Children and Family Services, on letterhead from the Donald T. Sterling Foundation, stating made $3,000 per week working for the charity. But according to a rep for the organization, she never worked there!
Article continues below advertisement
An insider tells Radar, "V. submitted paperwork on letterhead from the Donald T Sterling Foundation stating she was an employee, and made approximately $3,000 a week when she applied to become a foster parent to the two young boys she is in the process of adopting. This was given to social workers from DCFS."
However, the CFO of the Donald T Sterling Foundation, Darren Schield, told Radar, "There is no record of Ms. Stiviano ever working for the charity. No payments have ever been made to Ms. Stiviano from the charity. In fact, the foundation has no paid employees."
Indeed, tax records reviewed by RadarOnline.com reveal that there are no paid employees of the foundation.
Sterling, his estranged wife, Shelly, and the CFO are listed as officers, but aren't paid for their services. Furthermore, Stiviano isn't listed on any of the tax returns filed by the charity.
Radar broke the story: Stiviano is in the process of finalizing her adoption of two special needs teenagers, whom she is currently fostering.
Article continues below advertisement
"V fostered the boys for several years. She had met the boys during her work in the Los Angeles County District Attorney's Office. The adoption is being finalized. In fact, the social worker came by V's house for a final inspection before she left to do the interview with Barbra Walters," a source close to the situation told Radar.
The boys are of Cambodian, African American and Asian descent and are 12 and 13-years-old. Thay have spent time with the Los Angeles Clippers owner, a source told Radar.
Sterling, 80, was banned for life from the NBA by Commissioner Adam Silver because of the controversy over racist comments — with his permission, recorded by Stiviano.
Furthermore, Silver is urging the league's owners to force Sterling to sell the team.
"V. has been spending time with the boys away from the house. It's just to chaotic right now for her to bring them into the house," the source added. "She is considering moving to another secure location which would enable her to be with the boys."
As for paid advertisements that the Donald T Sterling Foundation placed in the Los Angeles times in recent years, in which Stiviano is listed as member of the foundation, Schield says, "The charity didn't pay for, nor was it responsible for the content of the ads." But he wouldn't reveal who did foot the bill.
Stiviano's attorney, Mac Nehoray, didn't immediately respond to request for comment.