Rob Kardashian Tweets 'No One Will Ever Understand How Much It Hurts' -- What's Behind The Cryptic Message?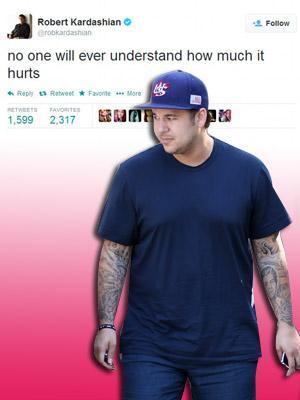 Is keeping up with the Kardashians taking an emotional toll on Rob?
While his sisters and stepsisters flood social media with posts celebrating their jet-setting life and wealth, the oft-overlooked 27-year-old used the medium to vent on Tuesday, writing to his followers, "No one will ever understand how much it hurts!'
The pained message, naturally, spurred speculation as to the reason for his blue mood, with much attention focused on his waistline, as the reality star has ballooned to 260 pounds over the past three years.
Article continues below advertisement
They Really Did Say It! 50 Outrageous Kardashian Quotes
Our source went on to say that the chunky TV personality might feel a bit left behind as Kim's star has soared into the stratosphere, which has taken its' toll on the once-close bond the siblings shared.
"The reality of their situation is that Kim and Rob haven't been that close in years," the source said. "Deep down, she thinks he is a total slacker and it's very hurtful to Rob.
Article continues below advertisement
They Make How Much?! The 23 Highest-Paid Reality TV Stars
"Out of all the Kardashian kids, Rob is the most down-to-earth and level-headed."
In addition, the exodus of Lamar Odom from the family "has also been hard on Rob because they had been like blood brothers.
"Rob would proudly tell anyone that Lamar was the brother he always wanted," the source said. "It's hard growing up in a family with five sisters and being the only male. His voice was rarely heard."