Kardashians Praise Rob For Surprising Second Place Finish On DWTS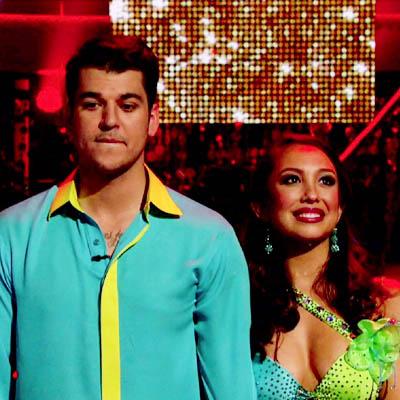 Radar Staff Writer
Despite finishing second to J.R. Martinez on Tuesday's 13th season finale of Dancing with the Stars, Rob Kardashian was a winner in spirit following a season which saw him transition from a guy with two left feet to a lean, mean freestylin' machine every time he graced the dance-floor.
Had the season lasted another week, the result might have been different, as the 24-year-old member of the reality TV dynasty surged as the season wound down, streaking to the finish line with his personal best score -- an impressive 57 out of 60 possible points -- coming on Monday's show.
Article continues below advertisement
Following the performance, Head judge Len Goodman told Rob his "family should be proud" of his efforts this season on the episode, and they sure were despite the second-place finish.
While Rob or his "momager" Kris Jenner did not tweet following the show, his sisters lit up the social networking microblog with praise for their younger brother's progression throughout the grueling season.
Kim Kardashian: Congrats JR & Karina!!!! Well deserved! Robbie & Cheryl I love u so much! U are my winner Rob! I am so proud!
Kourtney Kardashian: Congratulations to JR and Karina!! What a night and a season! I am so proud of my brother! @RobKardashian and @cherylburke congratulations!!
Khloe Kardashian: Rob and JR are both amazing! I'm so proud of my brother! ... Rob I love you so much!! I am SO proud of you! You have NO idea! The man you have become I am most proud of! I love how much you have grown! ... Every single week u improved! that's what I love most!got 2 see u dance better and better every week! You are amazing! Congrats to JR/Karina ... I can't express how proud I am of my brother! I am so proud of every1 who did DWTS! That takes guts! :) I love you Rob!