Exclusive
Not Funny! Chubby Rob Kardashian Livid Over Pals Calling Him Chaz Bono's 'Thinner Twin'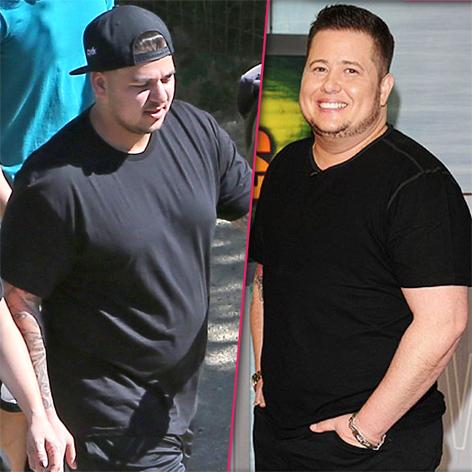 Rob Kardashian is sensitive enough about his weight gain, but he hit a new low when his buddies started ribbing him that his former Dancing With The Stars pal Chaz Bono is actually in better shape, RadarOnline.com has exclusively learned.
"It all started when Rob and his friends were out and some stranger yelled out and called him Chaz Bono. Rob likes Chaz a lot, but he wasn't happy when his friends started telling him that he could be Chaz's 'thinner twin,'" a source told Radar.
Article continues below advertisement
"It's bad enough that he's struggling to lose weight in the public eye, but now his own posse is getting in on it. Rob actually bonded with Chaz over his weight struggles when they were on Dancing With The Stars so it's pretty ironic that now Chaz is slimmer and he's packed on the pounds."
Rob, who admitted he's about 240 pounds now, and Chaz, who once tipped the scales at 250 pounds, competed on season thirteen of the ABC dancing competition.
Article continues below advertisement
"What's worked for me is, no sugar, no grains, no dairy except goat cheese, no white starches, portion control, and high intensity workouts," he wrote.
According to sources, Rob's taking his weight struggle very serious and he's leaning on his famous sisters for support.
"Rob is usually the one comforting his sisters after they get attacked in the press, but now he's the brunt of the jokes," adds the source.