Rob Kardashian Opens Up About Dramatic Weight Gain — How He Piled On The Pounds, How's He's Losing Them!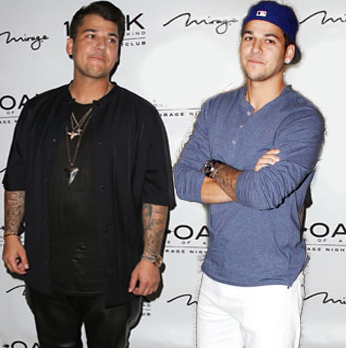 Five pounds down, 40 more to go!
Rob Kardashian has revealed he needs to lose a further 40lbs by July in order to hit his weight loss goal.
The fuller figured reality TV star has been on a vigorous fitness regime since he packed on the pounds following his split from girlfriend Rita Ora.
Now the 26-year-old admits the hard work is paying off, but he still has a long way to go.
"I lost five to seven pounds last week," he told Us Weekly at his birthday bash in Las Vegas on March 15 . "I'm trying to lose 40. It's a little journey but it's good.
Article continues below advertisement
"I'm like 240lbs right now, probably 235lbs."
Rob - who is often seen hiking Runyon Canyon in the Hollywood Hills - blamed his breakup and his "love of great food" for his shift in size but has now put himself on a low carb diet and is working out twice a day.
As well as a personal trainer he has also enlisted the help of his former Dancing With the Stars pro hoofer partner Cheryl Burke.
"We've started running and doing our own little workout, it's good" he said. "I'll exercise with my own trainer at eight in the morning before all that."