Put A Sock In It! Rob Kardashian's Designer Sock Line May Get Dumped By Luxury Department Store Neiman Marcus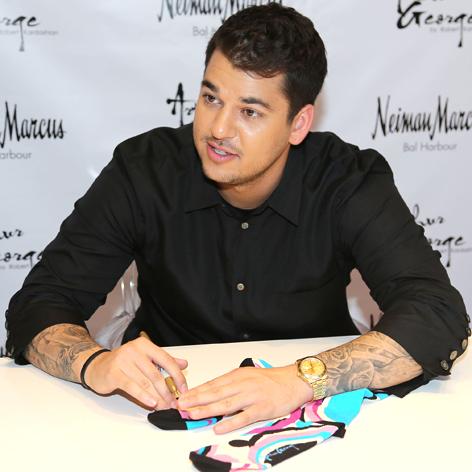 Rob Kardashian's foot-inspired foray into fashion could be coming to an end.
The Keeping Up with the Kardashians star's high-priced 'Arthur George by Rob Kardashian' line of socks is poised to be dumped from Neiman Marcus stores if stagnant sales don't improve, RadarOnline.com has learned.
"Rob's socks sold around the Christmas holiday, but since then no one has been really buying them," a source at the Neiman Marcus store in Beverly Hills said.
Article continues below advertisement
"We actually had to ship a bunch out to other stores because they weren't moving at all. To be honest, a lot of customers bought them more as a gag gift. At this point it doesn't look like we're going order anymore."
The 26-year-old wannabe fashionista launched his pricey footwear at $30 per item -- the busy patterned line includes the Camo, Graffiti and Swirls -- and are sold exclusively at luxury specialty department store Neiman Marcus.
In a statement, Neiman Marcus defended Arthur George by Robert Kardashian, saying it was "one of the best selling in the men's sock category" at the store.
"It is common practice to send inventory above projected demand to a store in advance of a personal appearance," Ginger Reeder, Vice President of Corporate Communications, told RadarOnline.com. "We then redistribute the excess to other stores after the appearance.
"The Arthur George by Robert Kardashian sock line has proven to be very popular with our customers.
"Currently we are carrying the socks in all 41 Neiman Marcus stores as well as at , have just placed a large reorder in anticipation of Father's Day and have a personal appearance with Rob scheduled next month in our Las Vegas store. In addition, we have several personal appearances scheduled for the fall."