Does Rob Kardashian Have A Secret Son?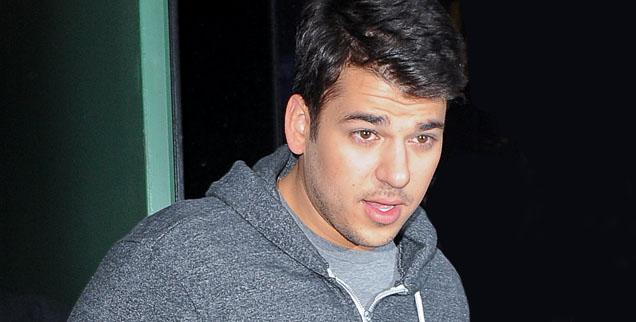 The Kardashians are an open book, but could quiet Rob Kardashian be hiding the biggest secret of all? According to a new report in , the only male Kardashian could be carrying a huge secret about a hidden love child!
An insider tells the mag that Rob spilled the news at a recent get-together at his apartment when friends noticed a teddy bear on his bed. "He said that it was a present for his son," says the source.
Article continues below advertisement
Another insider adds, "The possibility that Rob may have a child has been the buzz in the Kardashian circle for a while, but no one knows for sure. And no one will talk about it."
Rob has, however, hinted at it before. This May, he posted an Instagram note that read, "Shout to to God … Shout out Mom, shout out to my son's mom cuz she been holding me down since high school n shout out to my son Robert the Third. lol"
Though he quickly deleted that post, it wasn't just a one-time joke. Back in 2009, Rob shared a similar Twitter exchange with Nicole Richie. "Bout to take time today to see the ones whom I never se …" he wrote. And when Richie answered, "Like your son?" he wrote, "My son unfortunately doesn't stay in L.A. You know that. Don't remind me."
According to insiders, Rob has told friends that the child was the result of a fling with a Miami woman four years ago.
Article continues below advertisement
Says a source of the radio silence since, "There's a good chance that the child's mother wants nothing to do with the fame, and that's why she's staying so hush."
Rob's mother, Kris Jenner, has tried to keep the rumors at bay as well, according to Star. "Any time it's even mentioned, Kris changes the subject," says a family insider. "For whatever reason, Kris is fearful that Rob being a father could hurt the Kardashian brand."
They Make How Much?! The 23 Highest-Paid Reality TV Stars
But should Rob follow through with his recently reported plans to move to Miami, the source says, "Kris may not be able to ignore the buzz about him being a father any longer!"
For more on what Rob told friends about his rumored love child, pick up the latest issue of Star, on stands now!