Male Model Claims He Bedded Kourtney Kardashian 9 Months Before She Gave Birth To Son Mason; Asks For DNA Test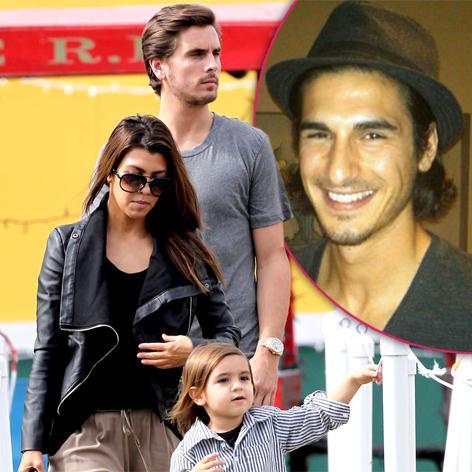 It's a startling accusation that could blow the lid off a troubled relationship and shake the Kardashian family to its very foundation: A male model claims he bedded Kourtney Kardashian nine months before the birth of her child Mason, calling into question if her partner Scott Disick is truly the boy's father.
Michael Girgenti, a male model from Chicago, Ill., tells InTouch he met the oldest Kardashian sister in April 2008 at a photo shoot for 944 magazine – he claims that meeting led to a March 2009 roll-in-the-hay at his Glendale, Calif., apartment, which he claims took place while she and Scott were having problems in their relationship.
Article continues below advertisement
Michael said the sex "was great," and estimated it lasted as long as 20 minutes. He said he and Kourtney never talked about using protection, and he assumed she was on the pill and proceeded as such.
The beefcake said he tried to keep contact with Kourt via BlackBerry Messenger, but she stopped responding to his messages.
Nine months later, on Dec. 14, 2009, Kourtney gave birth to her first child, son Mason.
Article continues below advertisement
Girgenti said that "after Mason was born, and I saw photos of him, I began to wonder."
Kourtney has denied the accusations she hooked up with the model, as her attorney – calling Girgenti's claims "preposterous and an outrageous lie" – said in a statement the two never exchanged contact information.
In publicizing his possible paternity of the boy, Girgenti says he hopes to "finally push them into taking the DNA test," adding he wouldn't want Scott taking care of the boy anymore if it was revealed that he was actually Mason's dad.
"I would definitely want to acknowledge Mason if he's my kid – the deserves to know his real father."
If the story sounds familiar, it may be because Star magazine broke it back in 2009!
Star ran their exclusive report that Girgenti was questioning Mason's paternity in their December 28 issue.
RadarOnline.com has reached out to a rep for the Kardashians for comment.
Kourtney and Kim Take Miami airs Sundays on E! at 9/8c.