Exclusive
Wedding Blues: Rob Kardashian Complaining 'He Doesn't Want To Attend' Sister Kim's Wedding Because Of His Weight Gain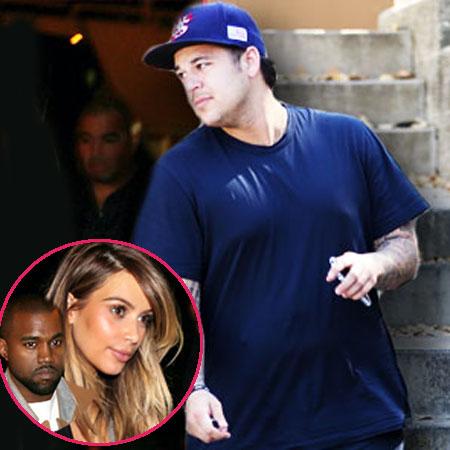 It will be the wedding of the year, but there's one Kardashian who's isn't excited about the nuptials between Kim and Kanye West: The E! reality star's younger brother, Rob, is said to be feeling "down in the dumps" about his changing physical appearance and has said he doesn't even want to attend the "I do's" in Paris, RadarOnline.com has been told.
A source said: "Rob is upset about his changing shape and truly feels like the black sheep of the family."
Article continues below advertisement
The family insider added that even though the 26-year-old is "very close" to father-of-one West, "he has no desire to go to France" for what is destined to be an over-the-top wedding.
They Really Did Say It! 50 Outrageous Kardashian Quotes
"Of course, that could change. Kim is his sister. He loves her. But he knows this will be all about Kim and as usual, Rob feels he would be like the third wheel," revealed one Kardashian spy.
"The reality of their situation is that Kim and Rob haven't been that close in years.
"Deep down, she thinks he is a total slacker and it's very hurtful to Rob. Out of all the Kardashian kids, Rob is the most down to earth and level headed. But he is just trying to find his way in the world."
As we previously reported, the annual Jenner-Kardashian Christmas card didn't include Rob last year and plans were secretly made with "no input or thoughts from Rob."
Article continues below advertisement
"Rob would proudly tell anyone that Lamar was the brother he always wanted. It's hard growing up in a family with five sisters and being the only male. His voice was rarely heard."
As RadarOnline.com has stated, "Kimye" will be married on May 24.