Exclusive
The Tragic Face Of Addiction: Husband Of 'Teen Mom' Star Jenelle Evans Releases Graphic Heroin Injection Video In The Aftermath Of Philip Seymour Hoffman Death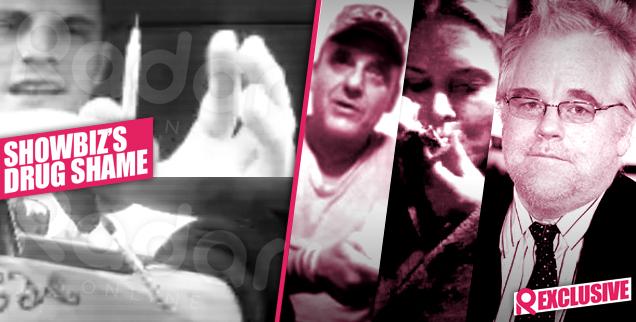 Article continues below advertisement
But now, in the wake of Hoffman's tragic death, as well as the death of beloved Glee star Cory Monteith just months ago, we have jointly decided to release the video to show the horrifying effects of the drug epidemic sweeping the country.
In the sickening footage, Rogers gazes into the camera, mixes the heroin in a small cap and fills the syringe with the drug.
radar_embed service=5min.com src="http://pshared.5min.com/Scripts/PlayerSeed.js?sid=1126&width=570&height=351&playList=518113731&sequential=1&shuffle=0"
Article continues below advertisement
After kicking his habit in jail, he's now clean and sober and determined to help others avoid the dangerous drug by revealing his experiences.
"Heroin gave me the most euphoric high," Rogers told RadarOnline.com in an exclusive interview. "It was the feeling of finally being loved by something."
But that love quickly turned sour.
He said, "It got to the point where I had to have it ... where I would do anything in the world to feel that high and not get sick."
Article continues below advertisement
And now, he, like the rest of the nation, is seeing the fatal effects of the drugs firsthand.
"In the past six months, I have lost four friends to heroin," Rogers revealed. "That is four families without their loved ones, one being my own cousin."
"It overpowers you and takes you away from everything!" Rogers added.
"It kills. After a while, you do it just to not get sick. You don't even get high anymore, it's just not to get sick."
"Life with it is insane! You disappear from reality and forget about everything except getting high."
But now, clean and sober, he has a new perspective.
Said the reality television star: "My life without it in it makes complete sense. I don't have to do it to stay alive now and I can actually live my life to the fullest without any drugs."
People like Rogers sharing the grim reality of drug use can be a helpful tool towards stemming this epidemic, according to experts.
Article continues below advertisement
"Unfortunately, the government's War on Drugs created such somewhat false propaganda about drug use that's given a lack of credibility to most public health warnings," Spanswick explained.
"From a societal standpoint, there's no credibility to government warnings about drug use... There's no authority that people trust."
Left to make judgments about the safety of substances, largely on their own, countless people have fallen down a dark path.
Article continues below advertisement
"Heroin's making such a resurgence because people think it's safer than meth," Spanswick said.
"They've seen people crash out more quickly on meth. In addition, when pharmaceutical companies made oxycodone unable to be crushed and shot intravenously, many people switched to heroin. We've seen the market switch from people getting maybe legal but resold prescription opiates the potency of which is regulated, to now street illegal heroin or tar heroin."
Spanswick addedthat Hoffman's death also reveals a growing change in the type of heroina being used.
"We're now seeing this high-potency powdered heroin again," he said. "For a while, it was mostly tar heroin from Mexico, which was low-grade and you can't shoot intravenously."
Making the high-potency heroin even more fatal, drug culture has changed to a more isolated model that leaves addicts like Hoffman, who died aged 46, alone in deadly circumstances.
Article continues below advertisement
"The culture of heroin has changed in the past few years, because of HIV and Hep C," Spanswick said.
"It used to be that heroin addicts would often form packs, or groups to cop drugs and then shoot up together. That way, if someone OD'd, you could get them to the ER.
"But now, because of AIDS and the danger of sharing needles, heroin addicts have become more and more isolated. You see more fatal overdoses."
Indeed, both Hoffman and Monteith were alone when they died of heroin overdose.
"It was horrifying to hear of Hoffman's death." Spanswick said.
"I was obviously deeply disturbed by it. But knowing the way we approach addiction in this country, I guess I wasn't surprised. We've had another person overdose, but what people don't realize is how many people are overdosing."
Rogers' video isn't the first time RadarOnline.com has shone an unforgiving light on the harsh reality of drug use.
Article continues below advertisement
And last month, we revealed shocking video of Black Hawk Down star Tom Sizemore using heroin and crystal meth.
radar_embed service=5min.com src="http://pshared.5min.com/Scripts/PlayerSeed.js?sid=1126&width=570&height=351&playList=518094921&sequential=1&shuffle=0"
As for Hoffman, he had been tentatively trying to bring his own demons into the light in the weeks before his death.
At the Sundance Film Festival in January, he told one stranger, "I am a heroin addict," according to a report. And he'd also reportedly been opening up about his troubles at local AA meetings in the West Village.
Article continues below advertisement
AA members often repeat the slogan, "You're only as sick as your secrets" and unfortunately for Hoffman, he wasn't able to share the full extent of his secret pain and get help, before it left him dead, surrounded by needles and dozens of bags of heroin.
For Rogers, sharing this video of his own secret drug use will be worth it if just one person can face their own addiction and get clean too.
"I was one of the lucky ones that made it," he explained to RadarOnline.com.
"I still have my life. So I will live my life to the fullest sober now and never forget the pain that I put myself and family through."
If you or a loved one is ready to get help, Call 1-888-299-5213 to speak to an addiction helpline advisor to find a local addiction recovery center.