Death Scene: Inside Philip Seymour Hoffman's Manhattan Drug Den Where Cops Found 49 Bags Of Heroin, Prescription Pills & 20 Syringes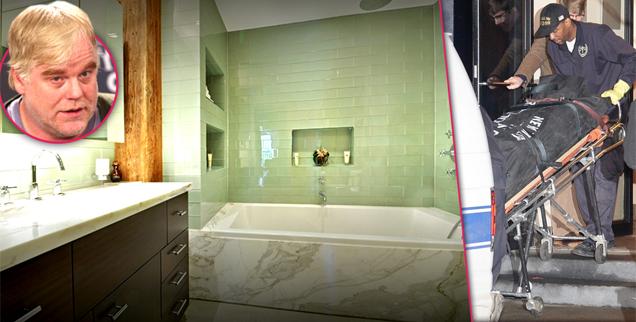 Article continues below advertisement
The beloved Capote star was renting the posh two-bedroom, two-bathroom 1,100 sq. foot pad on a monthly basis, paying $9,800 for digs in the coveted spot of Manhattan, RadarOnline.com has learned.
The fourth-floor dwelling was large on the inside with 10-foot beamed ceilings.
The place was touted by its' landlords as "like living in the country, in the most exciting part of the city" with it's picturesque views of trees and surrounding brownstone structures.
The drug den was three blocks from the $4.25 million apartment at 68 Jane St. that he purchased with his estranged partner, costume designer Mimi O'Donnell, in 2008.
The Coroner will conduct an autopsy on the actor Monday.
At the center of the investigation are the bags of drugs branded "Ace of Hearts" -- a street name for heroin -- and envelopes, branded "Ace of Spades," containing what is believed to be heroin.
As RadarOnline.com revealed, Hoffman's drug habit had escalated to the extent that he was spending upwards of $10,000 per month on heroin and abusing the prescription drug, Oxycontin.
"He was what we call a heavy 'red liner,'" a source told Radar. "That means he liked to shoot heroin with a needle, but he also sniffed it daily. And he was majorly hooked on Oxy, too."