'If I Don't Stop I Know I'm Going To Die': How Hopelessly Addicted Philip Seymour Hoffman Descended Into A Heroin Abyss, Stocking Up On A Stash Of Drugs He Knew WOULD Kill Him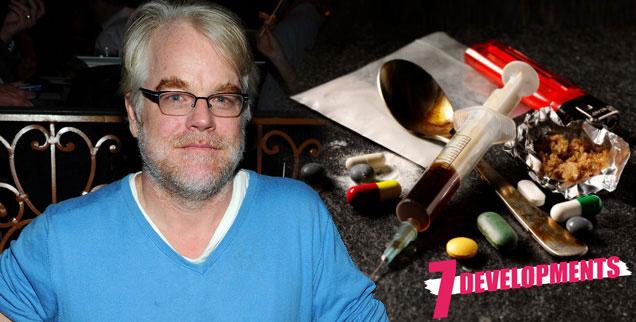 As Hollywood continues to remain stunned at the heroin overdose death of Oscar-winner Philip Seymour Hoffman, found in his New York apartment Sunday with up to 70 bags of heroin, 20 hypodermic needles and 5 Rx meds, RadarOnline.com has the seven latest developments.
Painful Premonition
Hoffman, sensing the wheels of his own self-destruction gain momentum, predicted his own death less than two months before it happened. The actor, who had been going to AA meetings on and off while in the middle of a six-week heroin binge, told one peer in the program, "If I don't stop I know I'm gonna die." Before his tragic downfall, the Boogie Nights star had been a steadfast attendee at AA meetings and was well-regarded by others for his motivational speaking.
Article continues below advertisement
Candid Confession
During last month's Sundance Film Festival in Utah, Hoffman admitted to a magazine publisher his fatal foible over the course of a nondescript chat. Washington Life Magazine publisher John Arundel told the NY Post he didn't immediately recognize the actor, who was wearing a hat. When Arundel asked him what he did for a living, Hoffman said, "I'm a heroin addict,'' taking off his hat to reveal himself. After Arundel recognized him, Hoffman clarified he'd just finished rehab. "He wanted people to know he was in recovery mode,'' Arundel said.
Trouble on the Homefront
Mimi O'Donnell, Hoffman's girlfriend of 15 years and the mother of his three children, had given the actor a dose of "tough love" in his final months, kicking him out of their $4.4 million New York home on Jane Street due to his spiraling battle with heroin addiction, insiders told the NY Post Monday. O'Donnell "told him he needed some time away from the kids and to get straight again," a source told the paper. The eviction notice from O'Donnell led to the talented actor to rent the Greenwich Village apartment he was found in Sunday. An insider told the paper that O'Donnell, who last spoke with her longtime love Saturday night, remained "distraught" over Hoffman's passing.
Article continues below advertisement
Comforting Presences
Hoffman's The Talented Mr. Ripley co-star Cate Blanchett was seen bringing toys to the New York home of the late actor's three kids, Cooper, 10, Tallulah, 7, and Willa, 5, on Monday. The actress, 44, was teary as she got out of a Cadillac XTS with two large bags and a telescope, staying mum while reporters peppered her with questions. A pastor who said his name was Dan Martin was also seen entering the somber home.
Heath Ledger Connection
Multiple reports indicate Hoffman took part in an intervention for actor pal Heath Ledger, who died in Jan. 2008 after overdosing on a lethal cocktail of prescription medications. Hoffman, who maintained sobriety for more than 20 years prior to his recent tailspin, was reportedly active in AA, and lent his best efforts to wean the talented Aussie actor off heroin and other substances. Ledger's father Kim, who sent his condolences to Hoffman's family, told the Sydney Morning Herald he found the notion his son was a drug addict offensive. "This is a complete and disrespectful fabrication of circumstances surrounding any relationship Heath and Philip Seymour Hoffman may have had and very offensive to the memory of Heath for his family and friends," Kim told the paper, adding, that Heath's death was not linked to addiction issues, but rather was "an accidental overdose of prescription drugs whilst suffering severe pneumonia and sleep deprivation."
Article continues below advertisement
Expert: Long Dormancy May Have Led Hoffman To Overestimate Tolerance
High Watch Recovery Center CEO Janina Kean told the NY Daily News that because the actor had been sober for such a long time, he might have overestimated the amount of heroin he needed to get his fix, triggering the fatal overdose. Kean explained that when heroin users stop using, "The brain begins to reset itself and is no longer able to withstand the same potency … an amount that was once tolerable could easily cause an overdose." Kean said the gifted actor "may have misjudged how much would have stopped his respiratory center," a common instance in accidental drug deaths.