Exclusive
Back On Heroin: 'Teen Mom' Husband Courtland Rogers Filmed In Drug Binge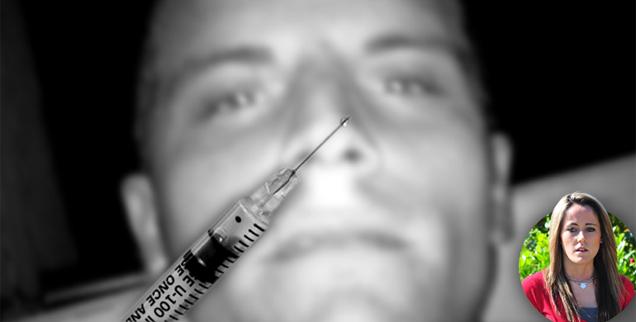 Teen Mom star Jenelle Evans has called for her estranged husband Courtland Rogers to go to rehab after he attempted to release shocking footage of himself injecting heroin.
Just days after claiming that he was drugs free to RadarOnline.com, the repeat offender has proven that he is as far as ever from kicking his deadly addiction and his estranged wife is hoping that he gets professional help immediately.
Article continues below advertisement
The grim video, shot on a mobile phone and lasting 2 minutes and 36 seconds, shows Rogers slumped in the front seat of his car, grasping a needle.
In the sickening footage, he stares into the camera, mixes the heroin in a small cap and fills the syringe with the drug.
Rogers then flicks the syringe, his head slumps forward and he injects it into his tattooed right arm.
"I did relapse, see all my track marks," he boasts to camera.
Within seconds of shooting the heroin, Rogers slurs: "Now I am officially high as hell."
The desperate husband of Evans pleaded with RadarOnline.com to purchase the video -- an advance we flat out refused.
They videos were taken in North Carolina on Thursday, just hours before he was set to check into rehab, Rogers said.
"This is what the bags look like that I am about to do," he says in the video.
"They come in "Star Track" bags in the light you can see the dope at the bottom. That's heroin. This is me relapsing right now as we speak."
Article continues below advertisement
Rogers was jailed after he and Evans were arrested for possession of heroin in April, and he has been warned numerous times that he faces jail if he does not kick his drug habit.
Now, after countless ineffective slaps on the wrist for drugs offenses, MTV-star Evans told RadarOnline.com time has come for him to get help immediately for his own good.
"If he does go it would surprise me if he actually completed it," she told RadarOnline.com.
"He is so concerned about being f*cked up constantly. He told me himself he can't live life sober, guess it's too boring for him."