Philip Seymour Hoffman Death: Lethal Heroin-Fentanyl Strain, ATM Surveillance Tape, At Center Of Police Probe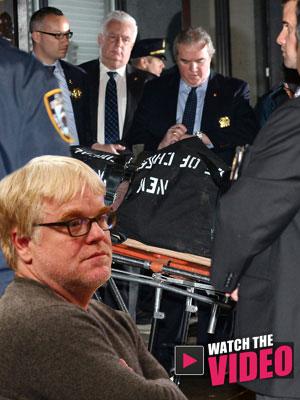 The entertainment community remained stunned Monday over the death of Oscar-winner Philip Seymour Hoffman, who was found in his New York City apartment Sunday with a needle in his arm in what officials believed to be a heroin overdose. With that in mind, we've got all the latest developments in the gifted actor's death, right here on RadarOnline.com.
Authorities Remove Body From Apartment
Officials removed the actor's body from the Greenwich Village apartment he was found in at 7 p.m. ET Sunday, with a small crowd gathered on Bethune Street to watch the ongoing investigation. The somber crowd made little noise as officials placed a body bag containing the actor's remains into a medical examiner's van. As we previously reported, Hoffman's friend and confidante, screenwriter David Bar Katz, found him in the bathroom when he did not show up for a visit with his kids earlier in the day.
Article continues below advertisement
Watch the video on RadarOnline.com
radar_embed service=5min.com src="http://pshared.5min.com/Scripts/PlayerSeed.js?sid=1126&width=570&height=351&playList=518109331&sequential=1&shuffle=0"
Bad Batch?
Multiple reports Monday claimed that police were investigating if Hoffman was felled by a toxic strain of heroin making its' rounds through the East Coast. Eight empty glassine bags with distinct emblems (Ace of Spades, Ace of Hearts), which officials are testing, were recovered from the death scene. Police said the bags (which also have been tied to heroin strains dubbed "Bud Ice," "Income Tax" and "Theraflu") -- have been linked to a particularly deadly strain of heroin that's been spiked with the powerful opiate fentanyl. The heroin-fentanyl combo has been tied to premature deaths in Pittsburgh, Maryland, and more than 20 overdoses in Rhode Island last month alone. A law enforcement source told Fox News that officials are investigating if the actor "had overdosed on the bad batch going around."
Toxic Transaction
Police Monday were investigating a lead from a witness who said he saw Hoffman taking money out of an ATM Saturday around 8 p.m. in the West Village, then giving it to two men carrying messenger bags, Fox reported. The witness said that Hoffman, who was reportedly out with pals earlier in the night grabbing a low key dinner, was "very sweaty" and looked "like s*it" at the time he saw him. Cops are moving to acquire surveillance footage from the cash machine, which had a camera perched atop it.
Article continues below advertisement
Family Issues
Hoffman is survived by three children (son Cooper, 10; and daughters Tallulah, 7, and Willa, 5) with his girlfriend of 15 years, designer Mimi O'Donnell, but the two had parted ways as of late. One police source told Mail Online, "It is my understanding that Mr. Hoffman and his girlfriend were separated" at the time of his death Sunday. Hoffman, who completed a 10-day rehab stay last spring after more than two decades of sobriety, was reportedly slated to visit with his kids early Sunday, and his absence led his pal to make the grim discovery. Hoffman's family said in a statement, "We are devastated by the loss of our beloved Phil and appreciate the outpouring of love and support we have received from everyone."
Tragic Foreshadowing
In a 2006 chat with 60 minutes, the actor was candid about his past battles with substance abuse when discussing a rehab stint he'd underwent in his early 20s. "I did all that stuff," Hoffman said of his predilections, adding that he entered treatment when he "got panicked for his life" after abusing. "It really was, it was just that." Elsewhere in the exchange, Hoffman (who first got in TV in his mid-20s) said that he felt he would have succumbed to his drug demons earlier in his life had he made it big at a young age. "I always think, God, I have so much empathy for these young actors that are 19 and all of a sudden they're beautiful and famous and rich -- I'm like, 'My God, I'd be dead' -- 19, beautiful, famous and rich, that would be it, you know … I think back at that time and think if I had the money, that kind of money."
Watch the video on RadarOnline.com
Lost Treasure
Many of the tributes that poured in a news spread of the versatile actor's death focused on his considerable talents. As well as his numerous runs on Broadway, he leaves behind a catalogue of films that showcased his brilliance in front of the camera. Among the performances many mourners cited included his Academy Award-winning turn in the titular role in 2005's Capote; closeted gay porn cameraman Scotty in 1997's Boogie Nights; enigmatic religious leader Lancaster Dodd in 2012's The Master. The busy actor solidified his resume with memorable roles in films like 1992's Scent of a Woman, and 1998's The Big Lebowski, 2011's Moneyball, and 2013's The Hunger Games: Catching Fire. He is expected to posthumously appear in two Hunger Games sequels due for release the next two winters.