Exclusive
Outrage! 20-Time Rehab Vet Brooke Mueller To Regain FULL Custody Of Twins By Charlie Sheen... Just Months After Being Committed To The Psych Ward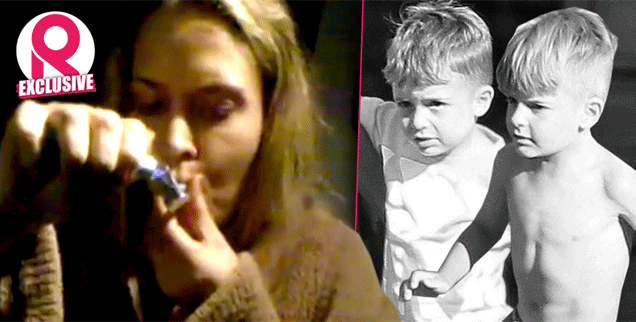 The latest news in the explosive Brooke Mueller and Charlie Sheen custody battle might be the most shocking yet: RadarOnline.com has learned that Mueller is on track to get custody of the couple's twin sons, Bob and Max, by Christmas.
After more than 20 stays in rehab -- including two while pregnant -- and a 5150 psychiatric hold this May after overdosing on crystal meth, Mueller's new commitment to her sobriety has impressed the Los Angeles County Department of Child and Family Services, according to insiders, so much so she will soon have her sons back living under her own roof.
Article continues below advertisement
The rest of the world does not agree.
Internet commenter PS wrote on one article about the brouhaha: "I would like an investigation into CPS. Seriously, how is it that brain-damaged addict Brooke is allowed to block the kids from therapy and is allowed unsupervised overnight visits already? That is so screwed up. She is a train wreck …"
RadarOnline.com user Anonymous808 wrote, "It's clear these boys are falling through the cracks. DCFS and Brooke do not have these boys' best interests at heart and are not looking out for them."
Article continues below advertisement
And t-bone wrote, "When will DCFS realize, being with the biological mother is not always the best situation. … This is sickening!!!!"
Sheen has been less restrained in his criticism.
Last Thursday, he posted a blog calling the DCFS workers in his case "inept retarded doosh sic bags," and wrote that the entire process was an "abhorrent d**k dance that has NOTHING to do with protecting any child."
He claimed that DCFS workers have been "swayed by the evil and pathetic uber-loser wh*re that calls herself Brooke," and promised that there would be a "reckoning."
Tuesday, he bashed the case workers further, saying: "I am beyond their timid morality, therefore I am beyond caring about any potential gag orders … What my family and I have been forced to deal with in the last 4 years, lives outside the pale of any acceptable conduct or decency. I am battling an amorphous enemy that needs to be swiftly disempowered."
Article continues below advertisement
He continued, "These crimes against my children will be exposed. These war criminals will be hanged at dusk to a cheering and jeering crowd, gathered together in love in support of all children who are mercilessly discarded like garbage by CPS. Which by the way stands for 'CAN"T PROTECT SH*TE."
Mueller, meanwhile, is aghast at Sheen's posturing, insiders have revealed.
"She just wants her boys back and doesn't understand why Charlie has gone on a tirade against her publicly," a source told RadarOnline.com.
"She isn't a saint and doesn't pretend to be, but neither is Charlie. He needs to take a very long look at himself in the mirror before spouting off at Brooke."
The twins had their first overnight visit with their mother since her most recent rehab stay last Friday night -- and it was supervised by an official from DCFS.