Exclusive
Charlie Sheen Custody War: Child Services Dump Denise Richards As Monitor For Actor's Supervised Playdates With Twins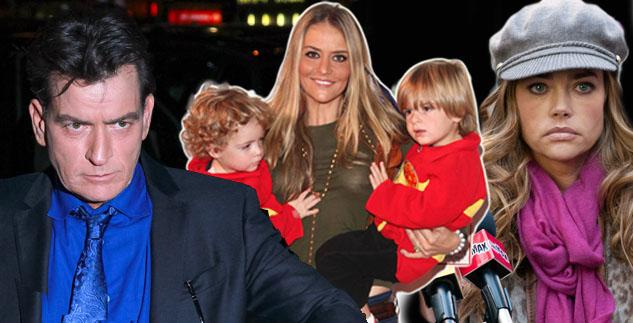 The Los Angeles Department of Children and Family Services have just taken another stab at Charlie Sheen after his epic swipe at them and his ex-wife.
RadarOnline.com has exclusively learned that social workers have axed the actor's second-wife, Denise Richards, as the court-approved monitor for when Sheen, 48, has supervised visits with his twins sons, Bob and Max, four.
DCFS will now seek to install an independent monitor in the event the Anger Management star is granted access to his two children with ex-wife Brooke Mueller.
Article continues below advertisement
Richards, 42, had acted as the observer during Sheen's custodial visits ever since she became the children's guardian in the wake of Mueller, 36, being placed on a 5150 under the Californian Welfare Institutions Code in May — the same evaluation that Britney Spears went under in 2008.
Mueller, a Palm Beach socialite, had overdosed of crystal methamphetamine.
"Denise received a call from an official from child protective services on Friday night during which she was informed that she was no longer the monitor for those visits," a source revealed to RadarOnline.com.
"She was also told not to take the twins to see Charlie on Saturday, as had been arranged. The reason given was because of Charlie's very public rants against the agency."
The bitter custody fight between Sheen and Mueller ignited on Halloween, when the ex-Two and a Half Men star posted a rant online, calling out the process that has engulfed his twins, Bob and Max, as "an abhorrent d**k dance that has NOTHING to do protecting any child."
Sheen wrote that DCFS workers had been "swayed by the evil and pathetic über loser wh*re that calls herself Brooke" and promising "there will be a reckoning" and "a whirlwind."
The actor is expected to go to court in attempt to win custody.