Charlie Sheen: Brooke Mueller Is 'As Awful A Parent & A Person As You Could Possibly Draw Up,' Wants To Strip Her Of Custody Of Their Twins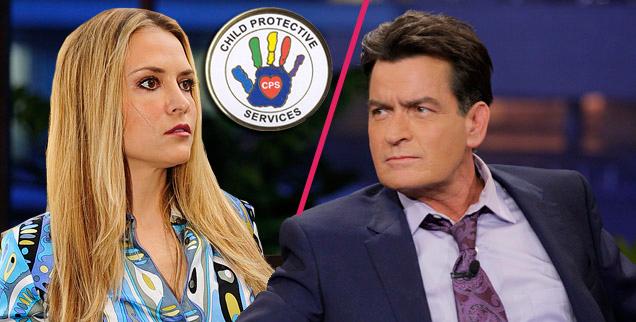 Hell hath no fury like a Charlie Sheen scorned.
The mercurial actor is furious that officials with the Los Angeles Department of Children & Family Services are gradually letting his twin sons Bob and Max spend more time with their mother, Brooke Mueller.
He posted a long rant online calling DCFS workers in his case "inept and retarded doosh bags," calling the process "an abhorrent d**k dance that has NOTHING to do protecting any child."
Article continues below advertisement
He wrote that DCFS workers are "swayed by the evil and pathetic über loser wh*re that calls herself Brooke," promising "there will be a reckoning" and "a whirlwind."
Later, Sheen opened up to an online outlet, calling his ex "as awful a parent and a person as you can possibly draw up," speculating that "she must be paying people off or working that Brooke magic … there's obviously some bribes involved, there's things going on."
He said that DCFS officials have inexplicably given Mueller pass after pass, regardless of her well-documented battles with drugs.
"I cannot sit idly by anymore and pretend like these morons are doing anything that resembles a good job," he said. "They've become parental protective services, not Child Protective Services. They're under the spell of this twisted Svengali named Brooke.
"It's pathetic, it's abhorrent. I have to go on the offensive, I have to."
Article continues below advertisement
Specifically, the Hollywood bad boy said that Mueller has decked out her house with "a bunch of tarantulas and nine lizards," turning it into "an absolute nightmare," and impacting the boys' moods when they return home.
"The kids come home with their visits with her completely upside down … when they left, they were fine, when they come back, it's an absolute nightmare," he said.
He said he fears for his children "every second that he's with her," -- a fear amplified by the fact that Brooke will have her first overnight, unsupervised visit, with the boys Friday after a lengthy layoff.
"There's stuff going on here that's so criminal, and so unacceptable it's beyond the pale. And we're talking about two four-and-a-half year olds," he said. "It's not only a horror show, but it's filled with felonious descriptions of child endangerment."
Sheen said he's planning to pursue either full custody, or shared custody with Denise Richards, of the boys.