They Said It! The 24 Most Explosive & Bizarre Celebrity Interviews Ever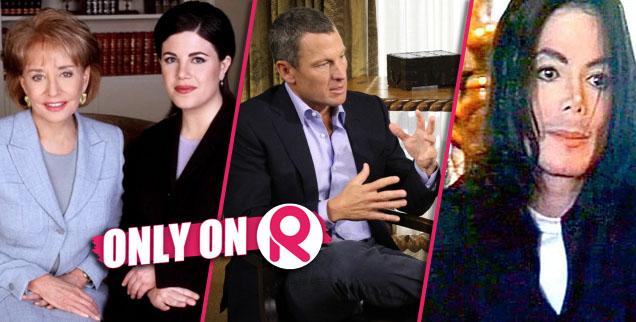 Take a look at some of the most cringe-worthy celebrity interviews ever. From Tom Cruise telling Matt Lauer he was "glib" on TODAY in 2005, to Princess Diana's bombshell "there were three of us in this marriage" confession to Martin Bashir, here are 24 revealing and sometimes awkward Hollywood interviews.
Article continues below advertisement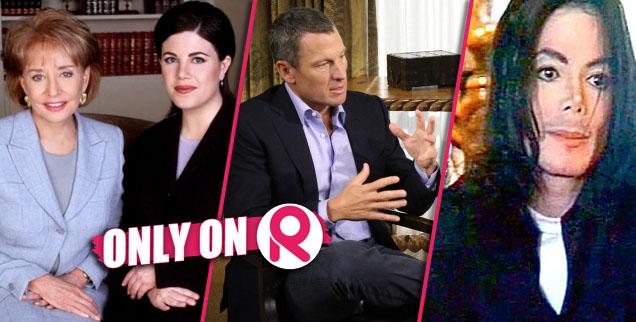 Matt Lauer and Paula Deen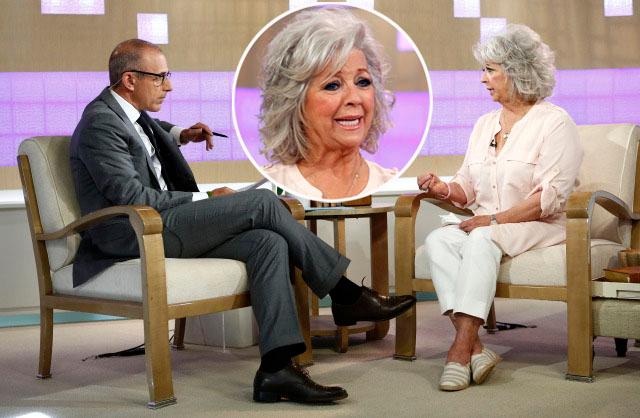 Paula Deen/Matt Lauer: In the most recent interview to shock America, the TV chef went on the Today Show on June 26 to explain her use of the N word in a legal deposition. Deen denied to Lauer that she was a racist. And she broke into tears in the last moments of the sitdown, directly addressing the camera and saying: "If there's anyone out there that has never said something that they wish they could take back--if you're out there, please pick up that stone and throw it so hard at my head that it kills me. Please, I want to meet you. I is what I is, and I'm not changing."
Article continues below advertisement
Matt Lauer and Tom Cruise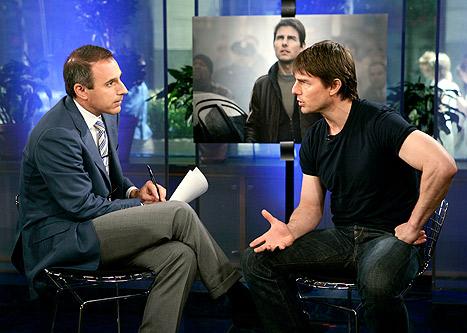 Tom Cruise/Matt Lauer: A June 2005 Today Show appearance to plug his movie The War of the Worlds turned into a war of words between Cruise and Lauer. Cruise, a Scientologist, doesn't believe in prescription drugs and debated Lauer about Brooke Shields' use of them to kick post-partum depression. Cruise scoffed, "Matt, you're glib ... you don't even know what Ritalin is." Lauer responded, "Well, it's really impressive listening to you ... It looks like you've done your homework." The movie star said, coldly, "And you should too. Just knowing people who are on Ritalin isn't enough. You should be a little more responsible." Cruise didn't return to the show until 2008, when he apologized to Lauer.
Article continues below advertisement
Princess Diana and Martin Bashir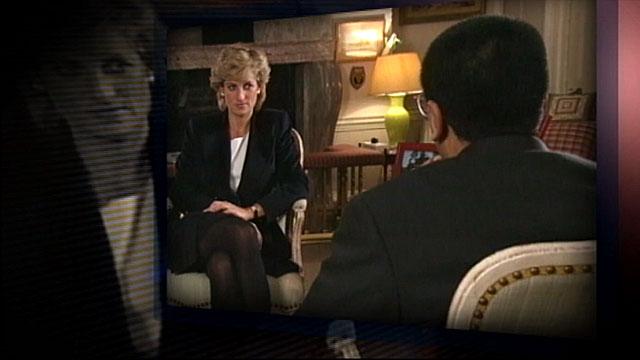 Princess Diana/Martin Bashir: In 1995, Princess Di stunned the world in a BBC interview with Martin Bashir for Panorama. Separated from Prince Charles and stung by his revelations 18 months before that he had been unfaithful to her, Diana was eager to give her side of the story. "There were three of us in this marriage, so it was a bit crowded," she told Bashir ruefully about the love triangle between herself, Charles, and his mistress, Camilla Parker-Bowles. The confessions were so shocking that Queen Elizabeth II requested that the Prince and Princess Of Wales get an early divorce, which they did in 1996. After the Princess died in a tragic car crash in 1997, Charles went on to marry Camilla.
Article continues below advertisement
Michael Jackson and Martin Bashir
Michael Jackson/Martin Bashir: The King of Pop exposed his private life during a blockbuster interview with British journalist Martin Bashir in 2003. On the documentary Living with Michael Jackson, Jackson admitted to Bashir that he had slept in the same bed with young boys. But he insisted his habit was "sweet" and "the most loving thing to do," denying it was sexual. "I am Peter Pan," he said. Jackson's comments helped lead to child-molestation charges in 2005, but he beat the rap. During a comeback attempt in 2009, however, Jackson died; his doctor, Conrad Murray, who had administered propofol to the star, was convicted of involuntary manslaughter in 2011.
Article continues below advertisement
Jodi Arias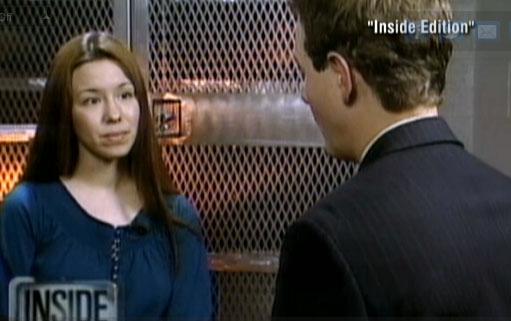 Jodi Arias/Inside Edition: A 2008 interview came back to haunt Arias during her trial earlier this year for murdering Travis Alexander. Jurors in the trial heard the beauty boldly tell the TV show Inside Edition, "No jury is going to convict me ... because I'm innocent and you can mark my words on that one -- no jury will convict me." The interview took place after Arias was indicted for murdering her ex-boyfriend. On day five of her trial, the interview was played for the jury. On May 8, Arias, accused of shooting her lover and slitting his throat, WAS convicted of first degree murder.
Article continues below advertisement
Lance Armstrong and Oprah Winfrey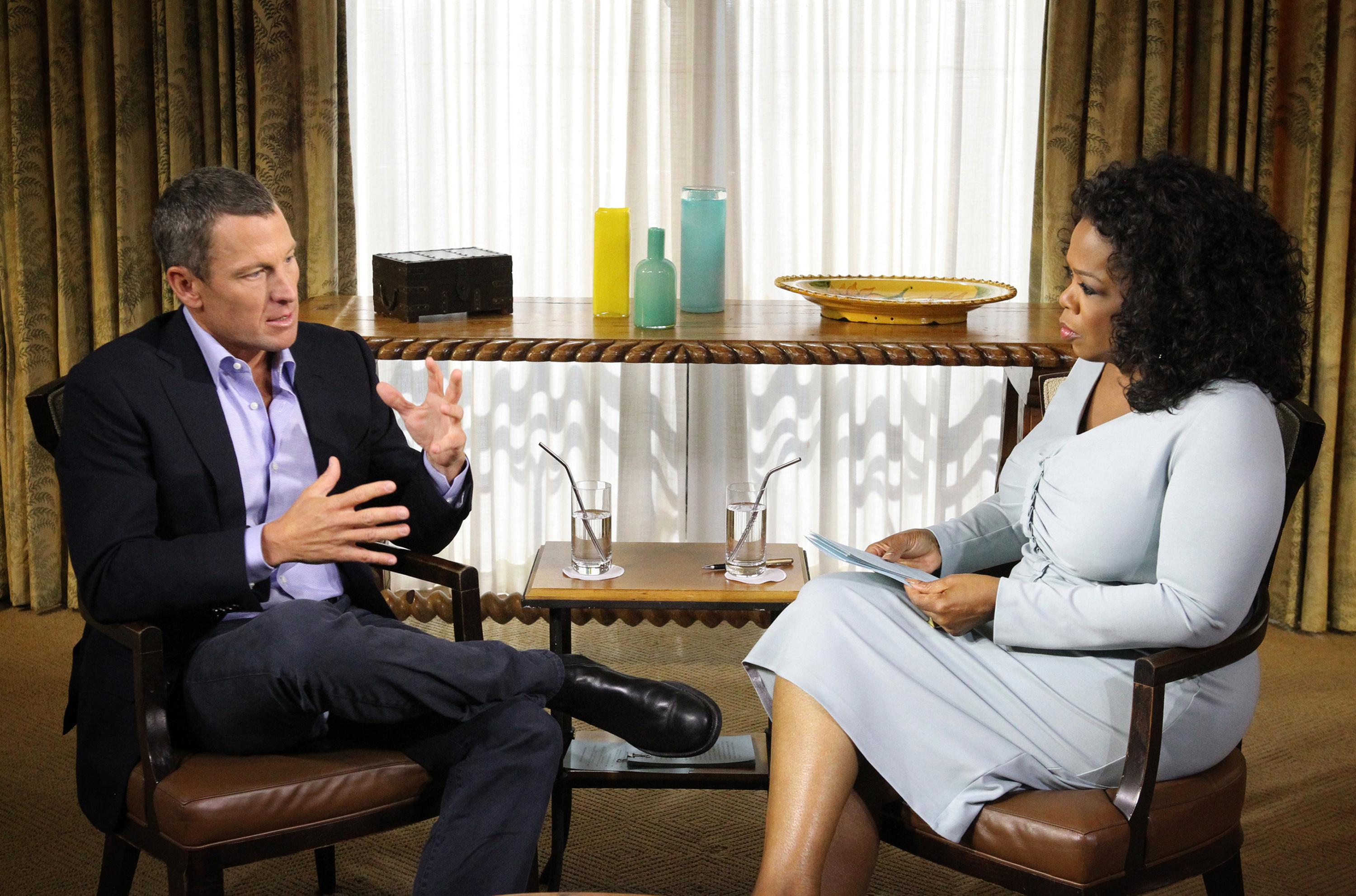 Lance Armstrong/Oprah Winfrey: The cyclist finally came clean and admitted to doping during a interview with Oprah Winfrey on OWN this January. When Oprah asked if he had taken a laundry list of banned substances, Armstrong confirmed, "Yes," and admitted he had lied about it for years. The seven-time Tour de France winner (1999-2005) mused that he might not have been caught if not for his comeback in 2009. "I am flawed, deeply flawed," he said.
Article continues below advertisement
Whitney Houston and Oprah Winfrey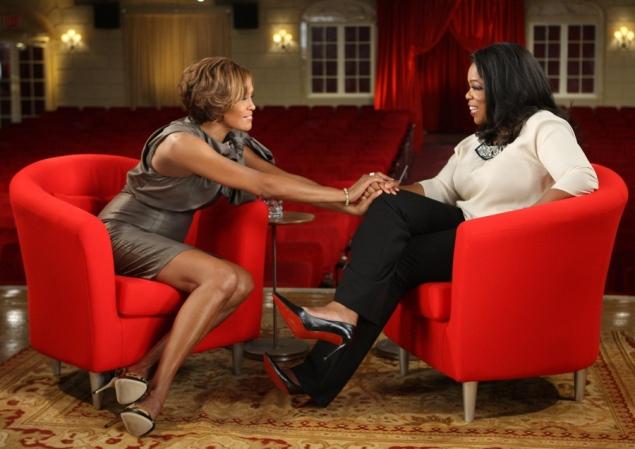 Whitney Houston/Oprah Winfrey: It had been years since Houston had done a major interview when she sat down with the talk show queen in 2009 on The Oprah Winfrey Show. In the candid chat, Whitney talked about abusing drugs and enduring a tortured marriage to Bobby Brown. "I didn't do anything without him. I wasn't getting high by myself. It was me and him together, and we were partners," she confided.
Article continues below advertisement
Mackenzie Phillips and Oprah Winfrey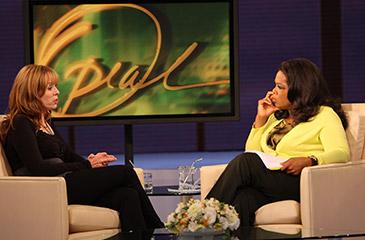 Mackenzie Phillips/Oprah Winfrey: The former One Day at a Time star broke all boundaries of celebrity tell-all when she revealed to Oprah in 2009 a long-term incestuous sexual relationship with her father, Mamas & the Papas singer John Phillips (who had died in 2001). While discussing her memoir, High on Arrival, Mackenzie said her father raped her when she was a teen and recalled waking up "with my pants around my ankles and my father sleeping beside me." Mackenzie sparked controversy when she said the sex eventually became consensual. John's supporters have completely denied her claims.
Article continues below advertisement
Mike Tyson, Robin Givens and Barbara Walters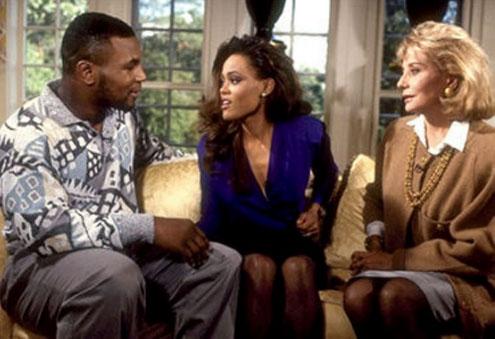 Mike Tyson and Robin Givens/Barbara Walters: In 1988, the boxer and his actress wife faced rumors swirling about their troubled marriage when they sat down with Barbara Walters on ABC. While Tyson was bizarrely mute and expressionless, Givens described her husband as "manic depressive" and their married life as "torture, pure hell, worse than anything I could possibly imagine." She slapped Tyson with divorce papers less than a month later.
Article continues below advertisement
Barbara Walters and Monica Lewinsky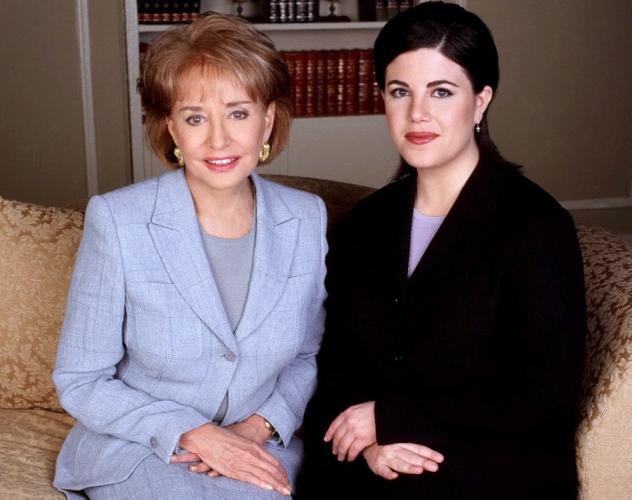 Monica Lewinsky/Barbara Walters: Former White House intern Monica Lewinsky finally told all in 1999 to Walters after news of her affair with President Bill Clinton almost torpedoed his presidency. During the widely-watched ABC interview, Walters asked Lewinsky, "What will you tell your children when you have them?" Lewinsky's response: "Mommy made a big mistake." Walters turned to the camera and said, "And that is the understatement of the year."
Article continues below advertisement
Carrie Prejean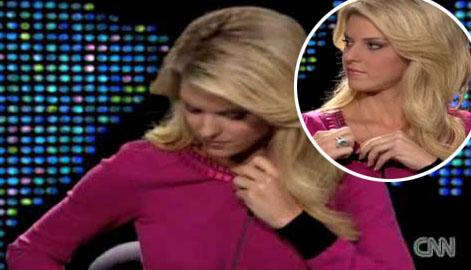 Carrie Prejean/Larry King: The former Miss USA contestant and gay marriage opponent's interview with Larry in 2009 went awry when she became angry and halted it in midstream. The former Miss California, who was stripped of her crown for alleged breaches of contrast, was asked why she settled with pageant officials instead of pursuing a lawsuit. After she kept telling him the settlement was "confidential," she got frustrated. "Larry, you're being inappropriate," Prejean declared. She then tore off her microphone and earpiece!
Article continues below advertisement
Larry King and Heather Mills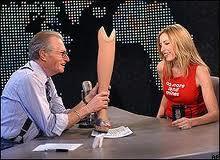 Heather Mills/Larry King: Larry and his CNN viewers were shocked in 2003 when the then-Mrs. Paul McCartney took off her artificial leg on the air and let him hold it. "Paul's gonna get upset, you touching my leg, Larry," she joked. But Heather's behavior allegedly was even more unexpected behind closed doors! She and Sir Paul divorced in 2008.
Article continues below advertisement
Jerry Seinfeld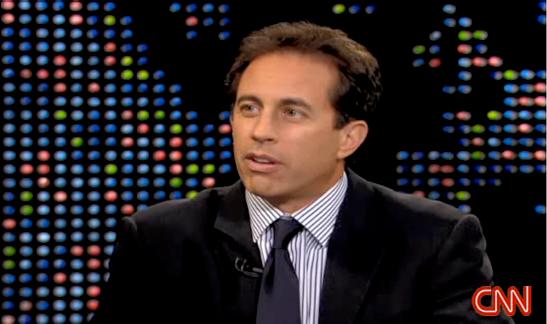 Jerry Seinfeld/Larry King: The clueless CNN talk show host bugged Jerry in 2007 when he asked the comedian if his hit show, Seinfeld, which had run until 1998, had been canceled. "You think I got canceled?" Seinfeld asked, incredulous. "You're under the impression that I got canceled? I thought that was pretty well documented.…Is this still CNN? That was the number one show on television, Larry. Do you know who I am?" King finally said, "I'm sorry."
Article continues below advertisement
Chris Brown and Robin Roberts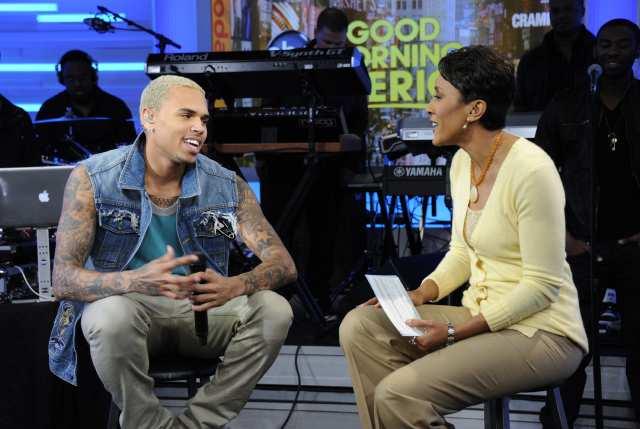 Chris Brown/Robin Roberts: The R&B star had some explaining to do when he joined Good Morning America co-anchor Robin Roberts for a 2011 interview to promote his new album, F.A.M.E. Brown, who had yet to speak out publicly about his infamous assault of girlfriend Rihanna two years before, tried to duck Roberts' pointed questions about it. "I mean, it's not really a big deal to me now, as far as that situation, and I think today's the album day, that's what I'm focused on," he said. As the interview ended, Brown emphasized that he couldn't care less what others thought. But the interview caused Brown to go into an off-camera rage; he shattered a window and stormed shirtless out of the ABC studio.
Article continues below advertisement
Charlie Sheen and Andrea Canning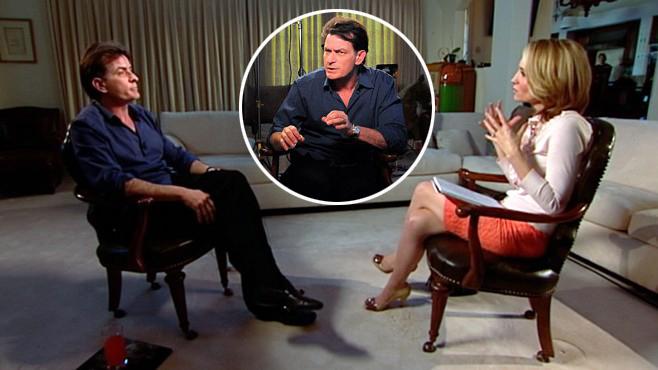 Charlie Sheen/Andrea Canning: After Charlie Sheen's 2011 mega meltdown, during which he lost his job on Two and a Half Men, the actor did a series of wacky interviews. In the first, with ABC (which aired on both GMA and 20/20) the hyper, frowning, cigarette-smoking star ranted to interviewer Andrea Canning, "I am on a drug. It's called Charlie Sheen. I'm a high priest, a warlock!" Later, he phoned in to Alex Jones' radio show and made "winning" a national catchphrase by saying: "I'm so tired of pretending like my life isn't just perfect and just winning every second."
Article continues below advertisement
Piers Morgan and Robert Blake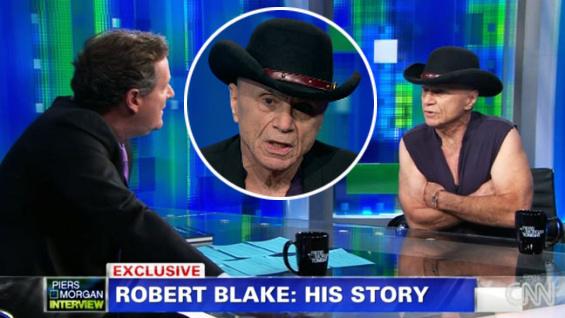 Robert Blake/Piers Morgan: The actor, who was acquitted of murdering wife Bonny Lee Bakley, appeared on Piers' CNN show to promote his memoir in 2012. But the interview turned ugly, with Blake accusing the host of calling him a liar -- and ranting about the "rotten bastard cops that ripped my guts out and left me beside the road to die." Pointing at the camera, Blake then said threateningly about the police, "I'll get to you sons of b***hes later! Don't think you're going to get off the hook."
Article continues below advertisement
Jon Stewart and Tucker Carlson
Jon Stewart/Tucker Carlson: While appearing on CNN's Crossfire, Stewart dissed the show—and cut down host Tucker Carlson! "How old are you?" Stewart asked him. "35," Carlson responded. "And you're wearing a bow tie!" Stewart pointed out, as the audience erupted in laughter. "I'm not suggesting you're not a smart guy -- because those aren't easy to tie!"
Article continues below advertisement
Dan Harris and Paris Hilton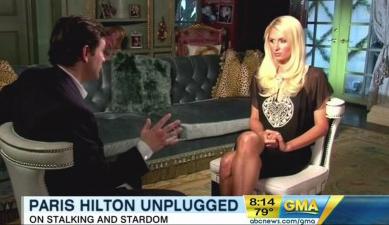 Paris Hilton/Dan Harris: ABC News journalist Dan Harris, while interviewing the former Simple Life star at her home in Los Angeles, asked Paris if she worried about other TV reality stars, like Kim Kardashian, overshadowing her. "No, not at all," Paris snapped. "Do you worry about your moment having passed?" Harris then asked. The celebutante paused, looked pissed, and then stormed off camera! After a cooling off period, during which she spoke to her publicist, Paris returned and finished the interview, however, even giving Harris a hug.
Article continues below advertisement
Krishnan Guru-Murthy and Quentin Tarantino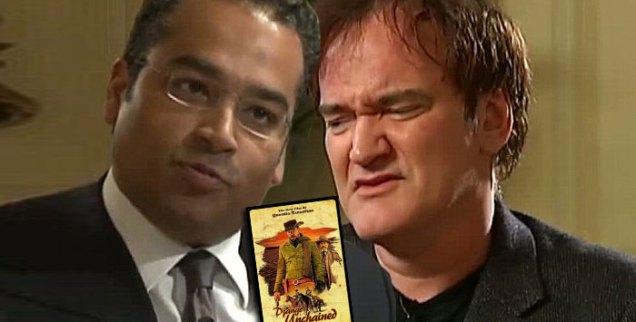 Quentin Tarantino/Krishnan Guru-Murthy: Things got testy earlier this year in England when the director spoke to TV journalist Krishnan Guru-Murthy about his movie Django Unchained. When Krishnan delved deeper, however, asking Tarrantino if films could promote real-life violence, Quentin raged, "I refuse your question. I'm here to sell my movie." He angrily went on to tell Krishnan on-camera: "I'm shutting your butt down."
Article continues below advertisement
Jesse James and Kat Von D/Howard Stern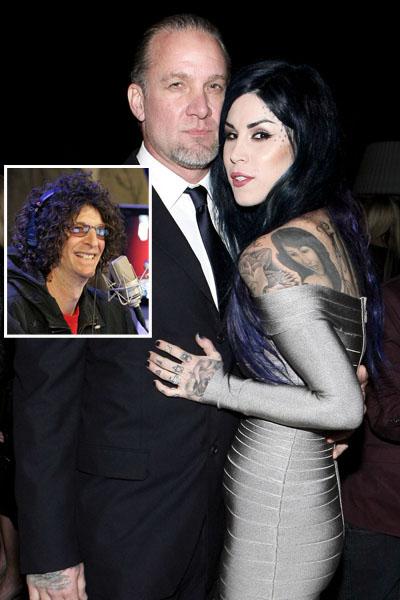 Jesse James/Howard Stern: The motorcycle customizer whose serial cheating on Sandra Bullock broke up their marriage became even more reviled by the public after doing Howard Stern's Sirius X radio show in 2011. Then dating L.A. Ink star Kat Von D, Jesse pulled no punches when Howard asked who was more fun in bed—Kat or Sandra. "That one's an easy no-brainer," James replied, choosing Kat. "100 percent. She's a vixen..the way she gets in my head and makes me feel." But Jesse and Kat broke up, too, and he married Alexis DeJoria earlier this year.
Article continues below advertisement
Joe Namath and Suzy Kolber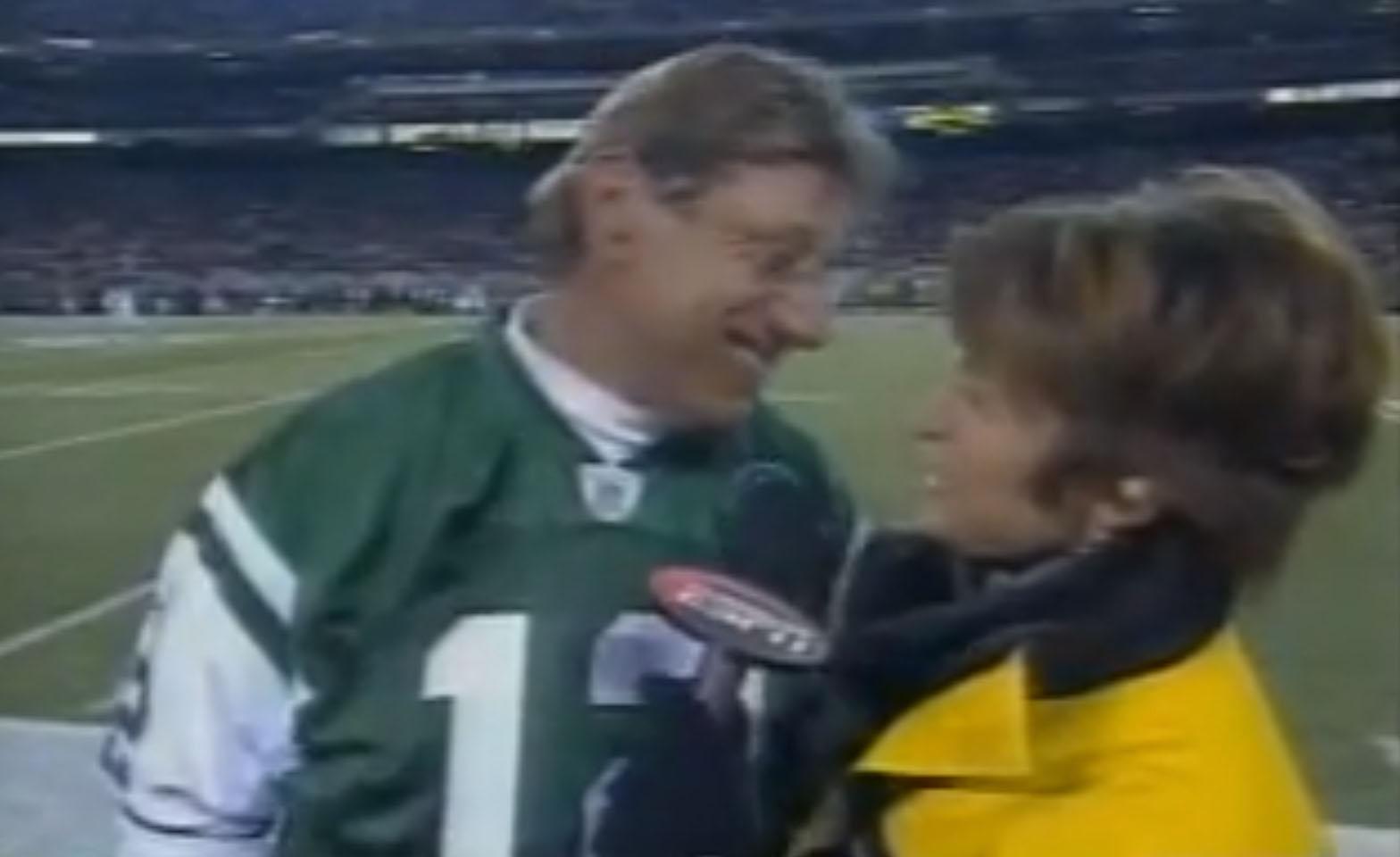 Joe Namath/Suzy Kolber: In a 2003 incident that has become notorious, when the football great was asked by sideline reporter Kolber about the Patriots/Jets game on ESPN, Broadway Joe was visibly drunk! "I wanna kiss you," he slurred, leaning close to Kolber. "I couldn't care less about the team struggling" he said of The Jets. Later, Namath apologized to Kolber. The athlete has since admitted he had been drinking day and night before the interview.
Article continues below advertisement
Tom Selleck and Rosie O'Donnell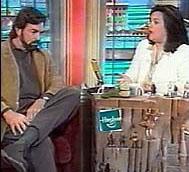 Tom Selleck/Rosie O'Donnell: In 1999, daytime TV talk show host O'Donnell ambushed Selleck for his support of the National Rifle Association (NRA) and demanded that he justify the freedom to buy assault weapons. The actor defended owning a gun and had a heated conversation about it with O'Donnell. Selleck said at the end, "I didn't come onto your show to have a debate. I came here to promote a movie... It's your show, and you can talk about it after I leave."
Article continues below advertisement
Dean Richards and Mel Gibson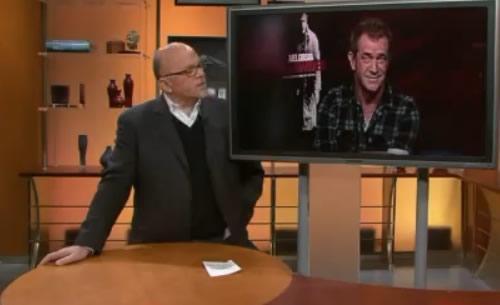 Mel Gibson/Dean Richards: Mad Mel showed plenty of darkness while promoting his movie Edge of Darkness in 2010 with WGN-TV Chicago reporter Dean Richards via remote feed. The actor had taken seven years off from starring roles following his 2006 DUI arrest. When Richards brought up Mel's drinking problems and well-publicized anti-Semitic rant, Mel squinted angrily and said, "Let's move on, dude, c'mon." Then, at the interview's conclusion, apparently unaware cameras were still rolling, Mel was caught saying, "Bye, bye, a**hole!"
Article continues below advertisement
Rihanna and Oprah Winfrey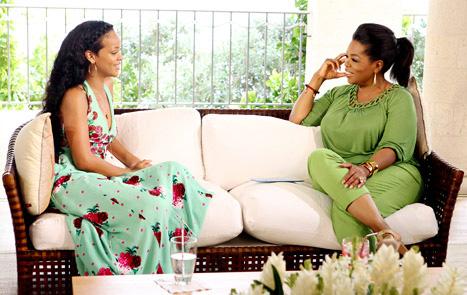 Rihanna/Oprah Winfrey: In a 2012 interview with Oprah for Oprah's Next Chapter on OWN, Rihanna opened her heart about her notorious beating by then-boyfriend, Chris Brown. In tears, Rihanna admitted, "Everybody's going to say he's a monster. I was angry, hurt, and betrayed." But the chat foreshadowed the couple's later reconciliation, as Rihanna also sounded forgiving, saying, "I lost my best friend. He made that mistake because he needs help." The pair's on-again, off-again relationship still has fans scratching their heads.