Exclusive
World-Leading Pediatrics Professor Recommended 'Urgent Evaluation' For Charlie Sheen's Twins In August, Leaked Email Reveals -- Concerned About 'Escalating Violent Actions'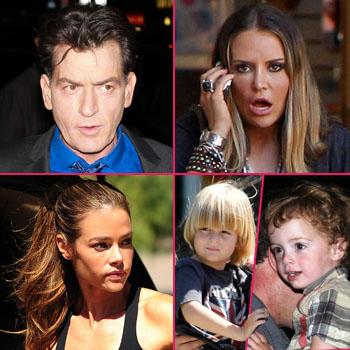 One of the world's foremost pediatricians was consulted on the "extreme violent mood swings" and "disturbing behavior" of Charlie Sheen and Brooke Mueller's twin sons Max and Bob — and he concluded the boys needed "urgent evaluation."
RadarOnline.com has obtained an email from top doc — who RadarOnline.com has chosen not to name — sent to Richards on August 23, during which he wrote:
"As we have discussed, because of recent events involving the boys' behavior I think that they need urgent evaluation."
Article continues below advertisement
"I am very concerned about their escalating violent actions; The apparent lack of understanding of the consequences and the safety of others is most worrisome. I would like them seen by (NAME REDACTED) for a complete developmental and behavioral assessment."
The email is contained in the Los Angeles Department of Children and Family Services case file.
As we reported, the child custody battle took a dramatic twist late Tuesday when shocking photographs of Bob emerged along with a letter from Richards in which she advised child protective services that she could no longer care for the twins.
The disturbing images were presented to DCFS and allegedly show "injuries" the toddler has sustained whilst in the care of either of his mother or grandmother.
The before-and-after images offered to child protective services which purport to show Bob with a large red welt on the right side of his face — under his hairline and in front of his right ear.
In one zoomed-in image, which was said to have been taken after he spent the weekend with Mueller and her mother Moira Fiore on July 26, there was a noticeable raw skin sore in the same vicinity as the red mark.
Article continues below advertisement
RadarOnline.com does not know what transpired to cause the injury and whether or not the purported sore occurred in Richards' custody or Mueller or her mothers.
It followed a week of recriminations in the nasty custody battle over Bob and Max during which the Anger Management star called DCFS workers "inept and retarded doosh bags."
He called the process that has engulfed his twins "an abhorrent d**k dance that has NOTHING to do protecting any child."
Sheen, 48, wrote that DCFS workers had been "swayed by the evil and pathetic über loser wh*re that calls herself Brooke."
In response, Mueller — who starred in the 2011 Oxygen series The World According to Paris — failed in a court bid to have a temporary restraining order issued preventing the actor from going within 100 yards of her.
The socialite was 5150′d under the Californian Welfare Institutions Code in May — the same evaluation that Britney Spears went under in 2008 — because it was deemed she could be a danger to her kids and/or others.