Exclusive
Judge Rejects Brooke Mueller's Bid For Restraining Order Against Charlie Sheen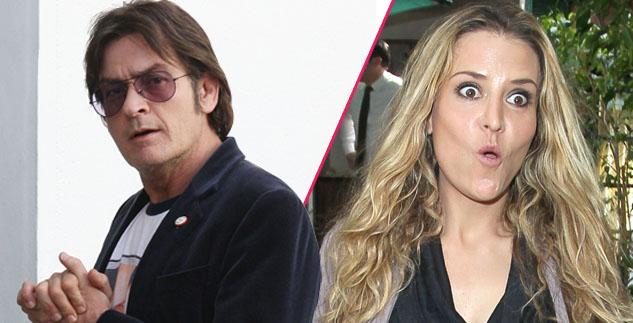 Charlie Sheen might have called his ex-wife Brooke Mueller an "evil and pathetic über loser wh*re" and promised there would be a "reckoning" in their bitter child custody battle, but it wasn't enough to win her a restraining order against the actor.
RadarOnline.com has confirmed Mueller, 36, failed in a bid on Monday to have the actor barred from going anywhere near her.
Her petition cited Sheen as saying: "There will be a reckoning. There will be a whirlwind. That they will all reap desperate begging for my forgiveness. You've all been warned....I will exercise every resource at my disposal. I will, I will, I will empty my entire war chest and if that can't get it done, I know a guy who can."
Article continues below advertisement
Mueller also claimed that she has been clean for over seven months and is trying to lead a life of sobriety for their two children.
"I have struggled with addiction. I successfully completed a lengthy in-patient rehabilitation this year and I have been substance free for seven months," she said in documents.
"I have reached out repeatedly to Charlie Sheen seeking that we find peace for the sake of our children over the past seven month only to be told, "lose my number douche bag." Petitioner is seriously upset that I am in recovery and have successfully maintained my sobriety. I am doing so for our children and myself. I love our children more than anyone can imagine. I am fighting for them everyday. I do not want them to have two severely drug addicted parents.
"Charlie Sheen is furious that I am doing so well, he had hoped I would relapse in order to continue his long sought quest to have all his children under one roof with his former wife."
A Los Angeles Superior Court judge refused to issue an emergency restraining order against the Anger Management star and instead set a hearing for next month, where the rehabbed socialite will have to make her case in person.
As we reported, the battle over custody of the pair's twins, Bob and Max, four, exploded last week when Sheen posted a blog, calling the Department of Children & Family Services workers in their case "inept and retarded doosh bags."
He called the process that he engulfed his twins "an abhorrent d**k dance that has NOTHING to do protecting any child."
Sheen, 48, wrote that DCFS workers are "swayed by the evil and pathetic über loser wh*re that calls herself Brooke."