Exclusive
Brooke Mueller Submits Court Documents, Tells Judge: Denise Richards Is 'Trying To Turn My Sons Against Me'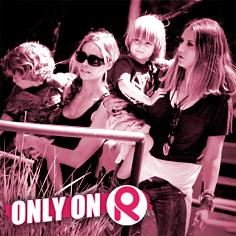 Brooke Mueller has just gone to a Los Angeles court to allege that Charlie Sheen's second ex-wife Denise Richards is trying to turn her twin sons against her, RadarOnline.com has exclusively learned.
The drug-troubled Palm Beach socialite, 36, filed paperwork with the child dependency court during which she alleged Bob, four, kicked and slapped her during her first overnight visit since being released from rehab at the weekend.
Article continues below advertisement
"In the filing, Brooke said Bob told her that he 'hated her.' Brooke said she believes that Denise told Bob to say that as part of an ongoing campaign to turn the boys against her," a source with knowledge of the documents told Radar.
During the visit, Bob also attempted to bite his twin brother Max and refused to look his mother in the eye, the source added.
Said the insider: "The visit was supervised… Brooke asked the boys if anyone told them to misbehave and she didn't get a response. Brooke thinks the boys are being bribed with toys and candy by Denise."
Another source said, "There's no evidence that Denise has done anything that Brooke has alleged. It's quite the opposite… Denise has never spoken ill of Brooke in the presence of the boys, ever. The appropriate forum for her to address her concerns was via a letter to child protective services."
It's the latest salvo in the bitter custody engulfing Sheen, Mueller and Richards which exploded Tuesday when the Wild Things actress wrote to the Department of Child Family Services to inform them that she no longer feels capable of caring for the boys in her home.
Article continues below advertisement
"With a heavy heart," Richards laid out in the seven-page document the painful story of how the boys came to find refuge with her and daughters Sam, Lola, and Eloise.
But, she said, recent contact with their mother, Mueller, had transformed them from "kind and loving" children to "zombie-like" boys who exhibit "extreme violent mood swings" and "violent behavior."
According to Richards, her "daughters have been strangled, kicked in the head and stomach, scratched, bit, slapped, punched in the face and head, and spit on" by the boys, as have the family dogs. One night, she claims, they even broke into their baby sister 's room and relieved themselves in her tub, flinging their feces all over her bathroom.
Richards has battled to have the boys evaluated for such unimaginable acts, but told DCFS that she had been stymied at every turn by Mueller.