Exclusive
The Littlest Victim: Charlie Sheen & Brooke Mueller's Son Bob Shown With Disturbing Injuries… As The Pair's Bitter Custody Battle Rages On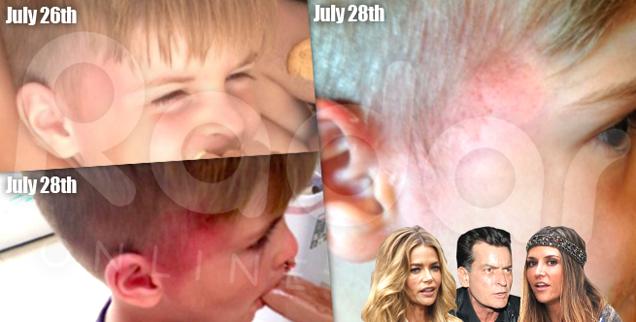 These are the shocking photographs of Charlie Sheen's four-year-old son Bob that have been presented to Los Angeles Department of Children and Family Services allegedly showing "injuries" the toddler has sustained whilst in the care of either of his mother Brooke Mueller or grandmother.
In a bombshell exclusive, before-and-after images have been offered to child protective services which purport to show Bob with a large red welt on the right side of his face — under his hairline and in front of his right ear.
Article continues below advertisement
In one zoomed-in image, which was said to have been taken after he spent the weekend with Mueller and her mother Moira Fiore on July 26, there was a noticeable raw skin sore in the same vicinity as the red mark.
In another image, taken days earlier when Sheen's child was in the custody of his second ex-wife Denise Richards, there was no signs of injury to Bob's face.
The evidence was collated by Team Sheen and turned over to DCFS for investigation.
However, the photos have become embroiled in a she-said, she-said battle between Richards and Mueller in a bid to explain what led to the injuries, we've learned.
"Brooke's mother asked a court-appointed monitor how the injuries occurred and she was told that Bob's face was in this condition when he left Denise's care," a source with knowledge of the situation told RadarOnline.com.
"However, Denise has told DCFS that is a blatant lie.
Article continues below advertisement
"She presented photographic evidence showing that there was no sign of the welt or rash when Bob left her care. Charlie, for his part, is clearly siding with Denise."
What's more, RadarOnline.com has learned a third witness, Bob's child therapist, told the department that he saw the toddler on the same day and just hours before he was transported into Mueller and her mother's care — and that Bob was "uninjured."
RadarOnline.com does not know what transpired to cause the injury and whether or not the purported sore occurred in Richards' custody or Mueller or her mothers.
Both Fiore and a rep for Mueller said they could not comment because of a court mandated gag order in place.
The emergence of the photos is a dramatic twist in the nasty custody battle over Bob and Max and explains why Anger Management star Sheen went on an epic Halloween rant, calling DCFS workers "inept and retarded doosh bags."
Article continues below advertisement
He called the process that has engulfed his twins "an abhorrent d**k dance that has NOTHING to do protecting any child."
Sheen, 48, wrote that DCFS workers had been "swayed by the evil and pathetic über loser wh*re that calls herself Brooke."
In response, Mueller — who starred in the 2011 Oxygen series The World According to Paris — failed in a court bid to have a temporary restraining order issued preventing the actor from going within 100 yards of her.
The socialite was 5150′d under the Californian Welfare Institutions Code in May — the same evaluation that Britney Spears went under in 2008 — because it was deemed she could be a danger to her kids and/or others.
The twins were then placed in Wild Things star Richards' care until she rescinded custody on Tuesday, as RadarOnline.com reported.