Kim & Kanye Rejected $4 Million Offer To Reveal Baby North On International Magazine Cover — To Save Mom Kris' Sinking Talk Show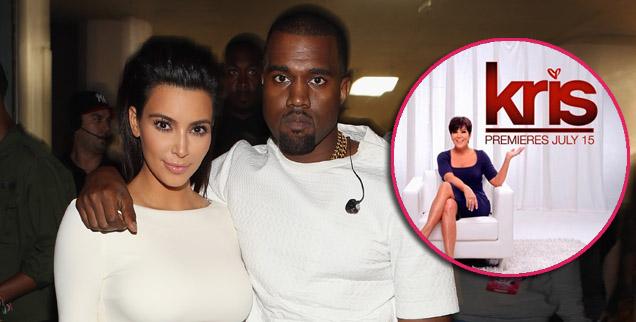 Blood is thicker than gold for Kim Kardashian and Kanye West.
The super-couple, RadarOnline.com has learned, rejected a $4 million offer from an Australian news outlet for publishing rights to the first photos of their newborn daughter North, and instead will let Kim's mother Kris Jenner unveil a photograph of the child on her much-in-need-of-a-boost talk show, Kris.
In the image, which is said to be unveiled on the show this Friday, baby North is by herself, lying on a comforter in a "very expensive" onesie, the insider said, adding that Kanye will get final approval on the segment, as well as the entire episode around it.
Article continues below advertisement
A source tells us the decision never came down to money for Kim and Kanye, as they're rolling in dough as it is.
"They were planning on giving it all away to Kanye's charity anyway," the source said. "It's not like North needs to worry about her trust fund, Kanye's already set aside a serious chunk of change."
According to separate source, Kim's mind isn't on her money, but rather calming the heightened frenzy from a public hungry for baby pics.
"Right now, she is worried about the safety of Nori because paps are throwing stuff over the walls, yelling awful things at her,"said the source. "She feels threatened and scared right now that if they don't just let everyone see the kid, you all are gonna go cray cray on her when she does finally emerge."
One insider said a separate offer was "well above $10 million," and the couple still might consider taking it, and donating the proceeds to charity.
Article continues below advertisement
"Kim pointed out how much that could help a charity and that they could look back on it and think of all the kids who got to better their situation because of one photo shoot," the source said.
And contrary to rumors, the source said that Kris Jenner was never handling the negotiations for the ballyhooed first pics.
The reality TV matriarch "would only have looked things over to make sure that the brand and her daughter's best interests were represented," the source said, adding that the Momager "has learned to stop taking sh*t so seriously with them -- that Kim is in love -- and she's kinda lost the control, and has to be OK with that, or else lose Kim as her daughter."
Kanye will decide how to handle distribution of the images, and an insider said that he's looking at a monthly magazine in the vein of W or Vogue.
"He wants it to be shot by someone like Mario Testino and have that art quality," the source said.
With his fondness for fashion, the College Dropout's looking to go in that direction with the pics, and thinks the artsy, classy nature of it would only enhance Kim's image, an insider said.