Kanye Smiles! Kim Kardashian & Her Baby Daddy Step Out With Baby North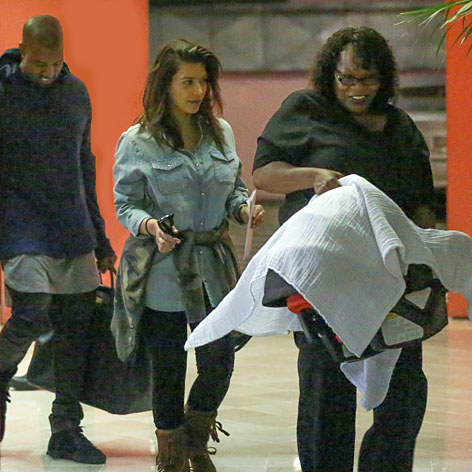 Kim Kardashian showed off her post-baby body and Kanye West  showed off his pearly whites as the new parents took their daughter, North, to the doctor for a check-up this week.
The happy family, along with the nanny who carried North in her car seat, were spotted on their way into the physician's office building.
West was weighted down with the world's largest baby bag -- actually a massive designer handbag -- but couldn't have looked happier.
Article continues below advertisement
Kardashian was dressed down in a denim shirt with another shirt tied around her waist.
She's already lost an estimated 30 pounds and is reportedly very anxious to get the rest of her baby weight off as quickly as possible.
As RadarOnline.com previously reported, unfortunately after he became aware of the photos existence, Kanye went "ballistic" and accused someone in the Kardashian clan of tipping a photog they'd be going to the pediatrician that day.
Even though little North's face wasn't seen in the images, the new dad "doesn't understand the entire families obsession with being in the media spotlight," a source told us.