Tongues Are Wagging! Kim Kardashian Shows Her Face For The Second Time Since Birth Of Her Daughter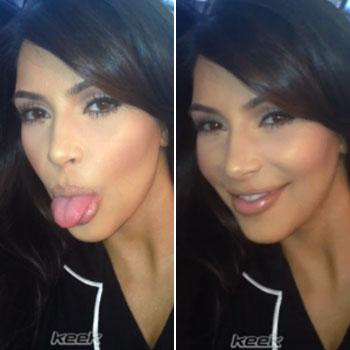 It's just 3 seconds long, but it's only the second time we've seen Kim Kardashian since before the birth of her daughter, North West, nearly two months ago!
Posted on the Keek app, Kim shows herself in what appears to be full hair and makeup, playfully sticking her tongue out at the camera.
Kim, 32, first broke her silence in a Keek video she posted after a paparazzo allegedly trespassed on their Calabasas, Calif. property trying to get a photo of the mother-in-hiding, but she didn't show her face on the video.
Article continues below advertisement
Just days later Kim appeared on momager Kris Jenner's daytime talk show, Kris, via a pre-recorded video clip saying, "I'm sorry I couldn't be there in person, but I'm just loving life a little bit too much at home right now. But I watch you every single day and you are so amazing. You really are born to do this."
In her most recent Keek video, Kim's face is noticeably slimmer than it appeared on Kris, probably because the new mother has been determined to shed the baby weight quickly.
When and where do you think Kim will make her first live appearance? Sound off below…