Kim Kardashian Is 'Obsessed With Getting The Baby Weight Off — And Fast'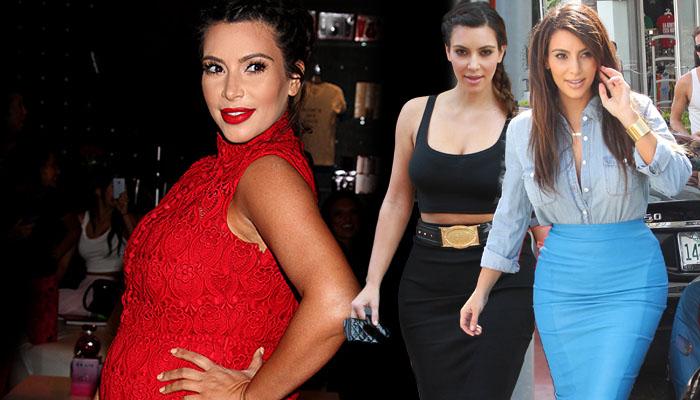 Kim Kardashian may have just given birth to her daughter North West on June 15, but she is already trying to shed as much baby weight as she can.
In her delivery room, Kim "wouldn't stop talking about her body," a source close to the Kardashians tells In Touch. "She kept asking her sisters if she looked smaller and skinner after giving birth."
The source says, "Kim is obsessed with getting the baby weight off — and fast."
Article continues below advertisement
And Kim supposedly wants to drop half of the 60 pounds that she gained during the pregnancy immediately.
"She really believes she can lose the first 30 pounds in the first month," another source says. "She wants to look good in a bikini by the end of the summer."
And Kim is happy that her baby was delivered naturally, because if she had to undergo a C-section, it would have been longer before she could have gone back to the gym, a source claims.
So, Kim is placing high pressures on herself to get back into amazing shape.
"She got so big," a friend of the Kardashians says. "So now she wants to look as hot as possible."
And her sisters teased her throughout her whole pregnancy.
"Her sisters were making fun of her because she kept tweeting old bikini pictures of herself," the friend says. "They told her she needed to relax and enjoy the weight gain."
Kim's weight-loss obsession is partly fueled by her baby daddy Kanye West's expectations.
"When Kim stacked on the weight, Kanye's vision of her maternity fashion went out the drain," an insider says. "He's not happy about how much weight she gained — and said it's her job to get rid of it quickly."
"She's terrified she will never get her body back," the first source adds. "Everyone has told her not to stress — that it's about being healthy and having a good mind-set for your baby, not about losing the weight right away. But her family knows that at the end of the day, Kim will do what Kim wants."