REPORT: Kourtney Kardashian Doesn't Approve Of Kim's Parenting Style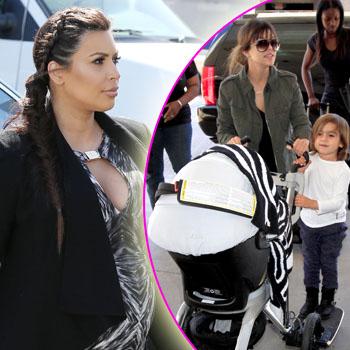 New mom Kim Kardashian has been bonding with her baby daughter but her own sister Kourtney has become her biggest critic and according to a new report she doesn't approve of her sibling's parenting style.
Kim and her baby daddy Kanye West welcomed North West on June 15 and since then she has been hiding at home with her new addition.
However, her older sister is concerned that Kim's celebrity lifestyle isn't going to change now that she's a mother and with Kanye's world tour schedule Kourtney has said that Kim isn't doing the right thing by taking the baby out of the country at such a young age.
Article continues below advertisement
"She was disgusted when she learned Kim plans to take the baby on Kanye's European tour so soon after the birth," a source told Life & Style magazine.
Kim was not happy about her big sis trying to tell her how to rear her child.
"They had a big argument," the insider said.
Kim blasted her sister and other moms previously, saying they had "boring and miserable lives," and the report says that Kourtney is concerned that her sister's opinion hasn't changed.
"Kim gets off on the crazy lifestyle," a friend close to the reality star told the magazine.
"She loves the buzz of taking 10 flights in three days and always having her hair and makeup teams around and staying in luxe hotels. But she needs to know that's in the past, at least for now."
The Kardashian family bond is very strong, especially between the sisters, but Kim becoming a mom has apparently worried her older sister.
"Kim does whatever she wants, and she's always been self-centered, so Kourtney's been disappointed so far."