Exclusive
Unmasked! Kim Kardashian Shows Off 'Olive Skinned' Baby North At Kanye's Grandpa's Funeral: 'She Looks Like Mason,' Says Onlooker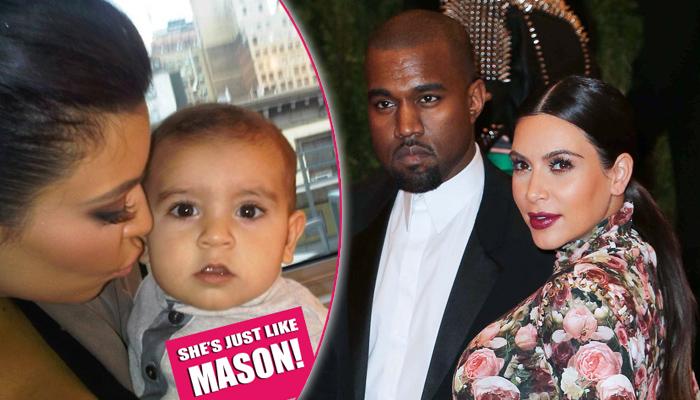 Article continues below advertisement
"Kim held North close to her but gave guests a glance at the baby, who was dressed in white with cute pink shoes on," an onlooker told RadarOnline.com.
"She's got a head full of hair and a beautiful olive skin tone."
Another onlooker tells RadarOnline.com that baby North is the spitting image of Kourtney Kardashian and Scott Disick's son, Mason.
"She looks like Mason did when he was a baby," the source said.
"They even have the same eyebrows!"
While Kim wasn't shy about showcasing her first child inside, outside, the 32-year-old protected North West from soaring 100-plus temperatures under a grey blanket.
Although there's no indication that the baby was hot, some have taken aim at her decision to cover the baby from the prying eyes of paparazzi.
"I fully respect Kim Kardashian's efforts to protect her child's privacy, however, it's always important not to lose sight of heat safety," Doctor Charles Sophy, the medical director of the Los Angeles County Department of Children and Family Services, tells RadarOnline.com.
Article continues below advertisement
"Similar to a child left in a vehicle with its windows closed, blankets fully covering a child leads to minimal ventilation.
"And temperatures can rise past the outdoor temperature very quickly, posing a health risk for children who tend to have a lower tolerance for heat compared with adults."
Kim and Kanye skipped sister Kylie Jenner's 16th birthday celebration on Saturday night to fly to Oklahoma to attend the rapper's grandfather's funeral.