Exclusive
Jon & Kate Plus Hate: 80 People Joining Kate Gosselin Anti-Bullying Lawsuit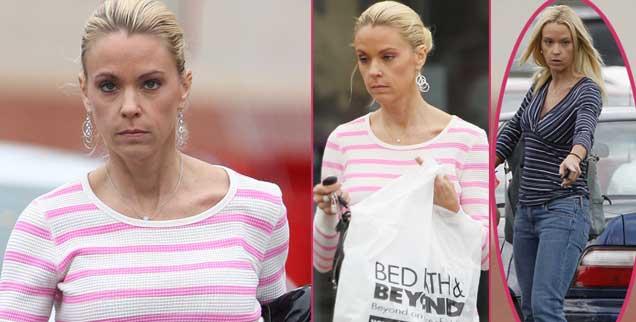 At least 80 people are joining a Kate Gosselin anti-bullying lawsuit, RadarOnline.com has learned exclusively.
James McGibney of Bullyville.com, an anti-bullying web site, conceived the idea for the class-action suit just days ago and it has triggered the fiercest battle between pro- and anti-Kate forces since her divorce from Jon played out on national TV.
Barely more than one week since the planned lawsuit was announced, more than 80 people have expressed strong interest in joining, RadarOnline.com has learned.
Article continues below advertisement
The plaintiffs contend they have been harassed in various ways by some of Kate's most ardent detractors, who they say have crossed the line into actionable behavior. (Many of Kate's detractors say they have been victimized and are being harassed for expressing their opinions.)
Some people on both sides have had their identities released online. In extreme cases, names of relatives, home addresses and social security numbers have been exposed.
"The worst is yet to come," one source told RadarOnline.
While the planned lawsuit is proceeding another huge battle is brewing, with McGibney promising to expose a financial connection between Jon Gosselin and Robert Hoffman, author of a self-published e-book that is highly critical of Kate and paints her as an unfit mother.
"I'm going after Jon , a lawyer involved in this and Hoffman," McGibney previously told RadarOnline.com exclusively.
Article continues below advertisement
Hoffman's book, Kate Gosselin: How She Fooled The World, was filled with his strong anti-Kate opinions plus documents, photographs and emails from her computer hard drive. Hoffman says he obtained the hard drive when it was thrown in the trash. RadarOnline.com previously reported that Jon helped him gain access to the computer.
Hoffman acknowledged to RadarOnline.com that he is Jon's friend.
Now McGibney contends that Hoffman and Jon had an agreement to profit together off the anti-Kate material. Hoffman claims Kate is an unfit mother and abusive and he has called child protective services on her twice. No action was taken against the mom of eight.
Hoffman's e-book was removed from sale by Amazon after only two days when lawyers for Kate and the Discovery network intervened. He recently posted an announcement on the web that he was making the book available again to some news organizations.
Meanwhile, not everyone has kept up their anti-Kate rhetoric in the midst of this new firestorm.
One person who posted questionable material about Kate apologized to her last week through RadarOnline.com, explaining her actions but acknowledging her message to Kate was "vile."
Article continues below advertisement
McGibney of Bullyville was previously successful in suing Hunter Moore, a notorious web presence who sometimes encouraged people to harm themselves and posted "revenge porn." Moore's site was shut down and a judgment entered against him. (Brandi Passante of Storage Wars also sued against Moore after he posted a porn movie and falsely claimed she was one of the performers.)
Moore's over-the-top antics, his bruising (losing) battle against McGibney and an instructive report on the dark, dark side of the web, are all detailed in this Gawker article.
McGibney's new planned lawsuit against the anti-Kate faction whose rhetoric often is profane, sometimes threatening and worse, has created a new war across the web. RadarOnline.com previously reported that Kate would join the class action lawsuit as a plaintiff. She has stayed quiet on that subject but has expressed support for McGibney and others who have silenced bullying, making it clear she takes a strong anti-bullying stance.
Article continues below advertisement
On April 5, McGibney posted this message to those who have already expressed interest or intent to join the lawsuit:
"To all the 77 victims who have submitted evidence of how they were terrorized by (name redacted by RadarOnline.com) and will be a part of the class action lawsuit against (gender redacted), please make note of the following. Stop any and all interaction/communication with the defendant …including but not limited to: Twitter, posts on (gender redacted) blog or any other form of social media interaction. Continue to submit any additional proof that you may have to (redacted) and if there are others who would like to be included, please email us as well. And for the record, we would LOVE for the @aclu to get involved. We have already reached out to them and per their own mission statement, their goal is "to defend and preserve the individual rights and liberties guaranteed to every person in this country by the Constitution and LAWS of the United States." We will be turning over ALL THE PROOF to them on Monday. Two of her "sheeples" have actually committed federal crimes, therefore the DOJ and FBI have already been notified"
The "target" discussed in the email ran a website that featured a plethora of anti-Kate material and is alleged to have harassed pro-Kate posters.
While McGibney is gathering potential plaintiffs, Hoffman, who previously worked as a freelance reporter for Us Weekly, is likely to find himself in the middle of controversy again.
While McGibney promises to expose the financial scheme between the author and Jon, Hoffman has not backed off his charges about Kate.
Article continues below advertisement
Only last week, he told RadarOnline.com in an email, "I think the reason so many people are arguing on Twitter is because of the irony of Kate Gosselin of all people, crying that she's being bullied.
"Forget about her vicious email threats and chilling first-person accounts of her beating her own babies in diapersthat she paid lawyers to cover up; all anyone needs to do is watch her in action during seven seasons of reality television.
"In my opinion, Kate Gosselin is the biggest bully on television and she's doing everything she can to try to rewrite history."
Meanwhile the details of how heobtained Kate's hard drive computer are likely to become yet another battleground in the unending war.