EXCLUSIVE PHOTOS: Jon Gosselin Goes Christmas Tree Shopping With His Girlfriend & 8 Kids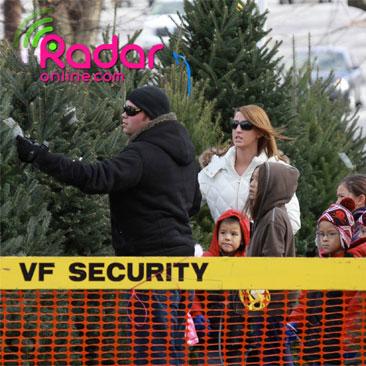 With Christmas fast approaching, Jon Gosselin and his gal pal Ellen Ross have already bought a special tree for his eight kids to enjoy, and RadarOnline.com has the exclusive pictures.
Jon and Ellen have been dating for more than six months and are preparing to spend their first Christmas together.
Jon recently started a new job and lives in a modest two bedroom apartment in Wyomissing, Pennsylvania. He is much happier than he has been in a long time, we're told.
Article continues below advertisement
A source told RadarOnline.com: "Jon and Ellen are determined that the kids have a great Christmas. He may not have a ton of money but he wants to get them gifts that mean something and that tap into their interests.
"Jon felt it was important for the kids to pick the tree with him and Ellen because it made them all feel part of the Christmas spirit."
RadarOnline.com recently revealed how the former womanizer is enjoying his new job in information technology while coming to terms with a more modest lifestyle.
The Christmas tree will be in his small apartment and both Jon and Ellen are already working through a Christmas list for the kids.
Though he's on a budget the former reality star is having fun planning a few surprises for his children.
The source added: "Jon knows that the kids love arts and crafts stuff, plus building sets and he likes to complete them with the kids, so, these will be on the list.
"The kids really enjoy the time with their father as he takes time to play with them while doing school work too. Both Jon and Ellen love to watch them practice their talents like singing, dancing or acting, as well.
Article continues below advertisement
"They are both really looking forward to spending their first Christmas together as a couple but want to make sure the kids have a great time too."
Jon and Kate's eight kids will be with their mom on Christmas Day while he will have them for New Year.
The once feuding couple has agreed to call a truce over the holidays for the sake of the children although Kate was less than flattering when she spoke about her former husband on the Today Show with Meredith Vieira on December 1, 2010.