Exclusive
I'm Sorry! Woman Who Sent Kate Gosselin 'Vile' Message Apologizes After Identity Exposed By Anti-Bully Group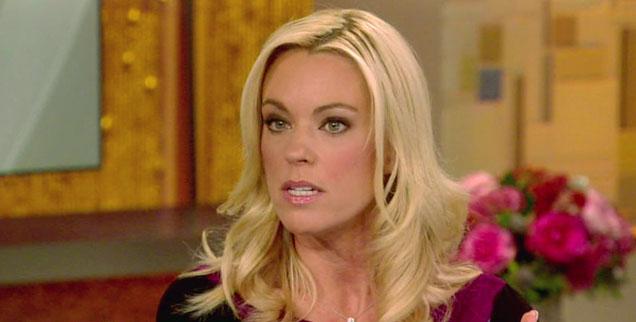 A woman who attacked Kate Gosselin with a profane and vicious online message has apologized to the reality star – through RadarOnline – after an anti-bullying group exposed her real identity.
It's the latest dramatic turn in a war that has erupted online since James McGibney of Bullyville.com announced he would expose people who had crossed a line in attacking mom-of-eight Gosselin.
True to his word, earlier this week McGibney began exposing the real identities of some people who sent vicious and (what some consider) threatening messages, placing the information on a repository Web site, along with nearly step-by-step instructions of how he (legally) found the real names. He also announced he is filing a class-action lawsuit against people who have gone too far.
Article continues below advertisement
The tweet that was sent to Kate previously by her read: "happy bday to a GRIFTING, stealing, lying child & animal abusing (censored) (censored). Hope u choke on ur birthday cake. REMEMBER SELENA."
In the apology, @chancertheboxer wanted to convey the "remember Selena" reference was not a death threat. (Selena was murdered by the president of her fan club.)
"I should not have been so vile," the woman wrote to RadarOnline.com in her apology to Kate. "I was actually telling her that (name redacted) was on twitter saying she was on her way to see Kate for her birthday.
Article continues below advertisement
"It was a little creepy sounding and even some fans said so. The Selena reference was brought in because of what happened to her. You know when her number 1 fan gunned her down.
"I admit I got upset when Kate thought it was a joke. She needs to be a little more careful. I am not a fan, I admit that. And yes I don't think kids lives should be put across TV for everyone to stare at for their amusement.
"It wasn't a death threat."
In reference to telling Kate to choke on her birthday cake, the woman wrote to RadarOnline.com: "Pretty much choke is used like bite me."
The woman also used as her avatar a cartoon of a bloody Kate being impaled and told RadarOnline.com that the cartoon was meant as a reference to a certain fan who she believes "is so hooked on Kate."
About that fan, @chancertheboxer told Kate through RadarOnline.com, "Sry but she does come off As a little creepy sometimes. I didn't make it (the avatar), but I will not reveal my sources. It was for joking purposes only. It was my fault for using it as an avatar."
Article continues below advertisement
The woman also asked Bullyville to stop revealing names.
"If Kate wants to accept my apology, that's fine," she told RadarOnline.com. "But I hope she calls off bullyville. They are attacking innocent people. And that is wrong too. If I can admit it so can they.
"Again Kate watch who u hang with. It sometimes doesn't end well and that's the truth. Sorry I won't buy your book. But I promise I wont go to your TL ever again.
"Again I am sorry mrs. GOSSELIN. You do have beautiful kids."
McGibney of Bullyville announced that he will be filing a class-action lawsuit against "main offenders" who have made death threats, pedophilia claims plus other alleged serious offenses.
And he supplied RadarOnline with many online messages that certainly appear to back up his claims.
It's all added up to what may be the biggest controversy surrounding Kate since her divorce from Jon Gosselin played out on national TV, with accusations about her parenting skills leveled by fans and even members of her own family.
Below is the controversial image showing Kate impaled, an image that was used as an avatar by many.